Jumbo show
Elephant exhibition celebrates Baronian gift
John Baronian, A50, has collected elephants for 50 years, amassing 3,000 sculptures and art pieces from his world travels. Now the gift of this collection to Tufts is being celebrated with a special exhibition, which runs through March 23 in the Koppelman Gallery of the Aidekman Arts Center.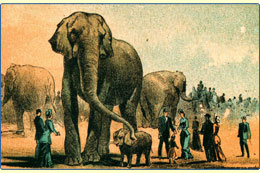 The "Baronian Collection," including pieces from Hong Kong, Thailand, Africa and Europe, is showcased along with a tribute to the Tufts mascot that started it all: Jumbo, the prized 19th-century pachyderm who enthralled thousands of children on both sides of the Atlantic. The elephant dominated the traveling menagerie of Barnum and Bailey's grandest circus, captured the world's imagination and lent his name to the lexicon of the English language. Jumbo, the story goes, died while saving a baby elephant from a runaway locomotive in Canada. The stuffed Jumbo, a gift of P.T. Barnum, an original trustee of Tufts College, arrived on the Medford/Somerville campus in 1889. His name and image have been etched upon Tufts' sports teams, clubs, psyche, school spirit, periodicals, yearbooks, songs, offices, artifacts, campus structures and the graduating student body ever since.
Once the exhibition ends, the elephants will be displayed permanently in the Remis Sculpture Court of Aidekman Arts Center.
Baronian, a university trustee emeritus, said he is pleased that the collection will now be housed at Tufts. "Jumbo symbolizes all that is Tufts, and that's really what this collection is about—pride and spirit," he said. "Now, as a gift to the university, it can be a part of Tufts history, as it should be."
Known as "Mr. Tufts," Baronian grew up in Worcester, Mass. His family moved to Medford, where his father ran a small variety store. At Tufts, Baronian became an outstanding athlete: He was the only lineman who received four varsity letters in football.
After graduating in 1950, he started collecting elephants on a whim. As a nationally ranked salesman with American Mutual Insurance Co., he regularly attended corporate annual meetings held abroad. International travel introduced him to the enormous popularity of elephants around the world, from markets in Hong Kong to antique shows in London. "I covered a lot of territory looking for elephants," he said, "and I always found them, wherever I went."
Baronian's passion for elephants is only one way he shows a lifelong affinity for his alma mater. A stalwart supporter of Tufts Athletics, he co-founded the Tufts Jumbo Club, which provides financial support to the Tufts athletic program. Two awards, named in his honor, are presented annually to athletes in football. He also established a memorial scholarship in his parents' names, and in 1983, the athletic field house at the Ellis Oval was named in his honor.
Admission to this exhibition is free and open to the public. Gallery hours are Tuesday through Saturday from noon to 8 p.m. and Sunday from noon to 5 p.m. The gallery is wheelchair-accessible. For more information, contact the gallery at (617) 627-3518 or visit the gallery web site at http://www.tufts.edu/as/gallery