Gene therapy
FDA panel endorses resumption of some genetic trials
An advisory panel to the Food and Drug Administration voted 19-1 on February 28 that U.S. studies of certain types of gene therapy should be allowed to proceed if there are no acceptable alternative therapies. The FDA usually follows its advisory panels' advice.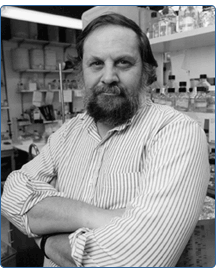 John M. Coffin…FDA advisor

© J.D. Sloan
The studies involve using viruses or other carriers—known as vectors—to insert genetic material into hematopoietic, or blood cell-producing, stem cells.
While the panel said the FDA could be more lenient in most trials involving stem cells, it was not as sanguine about studies using retroviral vectors carrying the gammaC gene to cure X-linked severe combined immunodeficiency (X-SCID).
Panelists were unanimous that those trials should be put on hold for 18 months to two years while researchers continue to delve into why two children in a French X-SCID gene therapy study developed leukemia.
"We really have to come to grips with what steps need to be taken to try to prevent this from happening in the future," said John M. Coffin, professor of microbiology at the School of Medicine, who serves on the FDA advisory panel.
"We need about two more years until I can say how safe this therapy is," said panel chairman Daniel Salomon of the Scripps Research Institute, noting that it took that amount of time before the first cancer cases appeared.
However, Salomon and other panelists said that X-SCID children who have failed bone marrow transplants or cord blood infusions or who would die otherwise should be eligible to enter one of the three gene therapy trials on hold in the United States.
The three U.S. X-SCID trials were put on hold last fall, and 27 other gene therapy studies were halted in January. Studies overseas had already been stopped or restricted last fall, when the first leukemia case surfaced. Italy, Germany, the United Kingdom and France since have mostly extended those restrictions until more is known about why the French children developed leukemia.
Reuters