Digital library
Fletcher collaborates with Oxford to promote awareness of forced migration
In collaboration with the Refugee Studies Centre at Oxford University, the Fletcher School's Edwin Ginn Library has launched the Forced Migration Online (FMO) Digital Library. Content includes a digital library, thematic and country/population-specific guides, a searchable web catalogue, a news feed, a directory of key organizations, visual materials, back runs of selected, relevant academic journals and online teaching resources.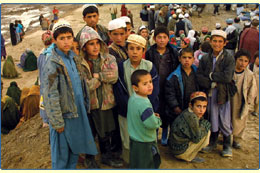 © Janet Durrans/Stock Photo
The site can be searched, read online and printed at www.forcedmigration.org
FMO is providing comprehensive, impartial information to promote increased international awareness of human displacement issues. It is designed for use by practitioners, researchers, policy-makers, students and others interested in the field.
The Ginn Library's collection focus for the project is on subject areas that support the curriculum of the Fletcher School and the work of the Feinstein International Famine Center. The first documents Tufts contributed are primarily from the Famine Center on famine and nutritional issues. Ginn will continue to collect, organize and contribute documents on livelihoods, children in war and public nutrition. To review documents from the Tufts collection, search the site under "famine."
With funding from the Mellon Foundation, the Refugee Studies Centre is working with the Fletcher School, Columbia University, the American University in Cairo and the Czech Helsinki Committee in Prague to add content to the digital library and extend the available range of materials.
For further information about the Tufts project, or to provide feedback to project staff, e-mail Jeff Gardner ( jeff.gardner@tufts.edu), Rebecca Sholes (rebecca.sholes@tufts.edu) or Miriam Seltzer (miriam.seltzer@tufts.edu)