Collateral damage
The medical aftermath of the wars in Iraq and Afghanistan
by Janet Walzer
From a humanitarian action perspective, the current situations in Afghanistan and Iraq are both alike and quite different. "Iraq and Afghanistan: Related Humanitarian Crises" was the subject of a May 1 talk given by Dr. Irwin H. Rosenberg, dean of the Gerald J. and Dorothy R. Friedman School of Nutrition Science and Policy, and Dr. Robert M. Russell, director of the Jean Mayer USDA Human Nutrition Research Center on Aging at Tufts.
Russell, who is also a professor of nutrition and of medicine, was a member of a small team from Tufts and UNICEF that went to Iraq six weeks after the end of the first Gulf War to assess the nutritional status of Iraqi children. What Russell and the team learned at that time provides a context for the current situation in Iraq.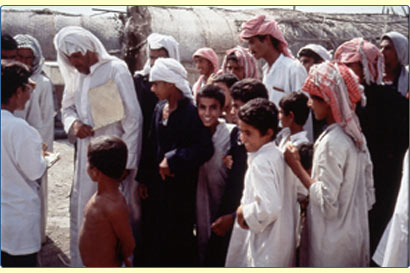 © Robert Russell
Before the first Gulf War in 1991, Iraq was regarded as a model country in terms of its health care system, Russell said, but after the war, that system was devastated. The top killers after the war were diarrhea and respiratory diseases. "The setup for [these diseases]," Russell said, "is malnutrition." Chronic malnutrition affected 17 percent of the population in 1991 and by the time the Oil for Food Program was established in 1996, that statistic had jumped to 32 percent.
Children in despair
Six months after the first Gulf War ended, 110,000 children had died from health problems caused by the war, and through the 1990s, infant mortality doubled. Conditions were still miserable before the second Gulf War began in March. Only 50 percent of electrical and water capacity had been re-established to their 1990 levels. Infant mortality was 108 children per 1,000, compared with 7 in 1,000 in the United States. The average child had diarrhea 14.4 days out of every month.
Perhaps an even more sobering statistic provided by UNICEF: Forty percent of Iraqi children didn't think life was worth living.
"What's happening now is pretty dismal," Russell said. "There's no basic coordination of the humanitarian effort." The U.S. Defense Departmentónot the U.S. State Departmentóis leading humanitarian efforts, and the United Nations is not involved at all. "I'm fairly pessimistic regarding the children [of Iraq] in the next several months," Russell said. "So far, food aid has been only tokenism, and once again, it's children who will suffer."
Russell noted that of the 34 hospitals in Baghdad, 18 "are somewhat working," but with dirty water and no electricity. There is a chance, he said, that we might never know "the numbers of people who are going to die from the medical effects of this war."
Rosenberg, who is also a professor of nutrition and of medicine at Tufts, visited Afghanistan in March, shortly before the war in Iraq began. Rosenberg met with members of the Friedman School of Nutrition Science and Policy's Feinstein International Famine Center, including Annalies Borrel, who along with UNICEF staff, has created and now directs the new nutrition department of Afghanistan's Ministry of Health.
Siphoning off aid
Even before the war began, the crisis in Iraq was already diverting aid from Afghanistan. "It's clear that Afghanistan is becoming collateral damage of the Iraqi war," Rosenberg said.
Although the American military effort to expel the Taliban did not cause the physical damage now seen in Iraq, Rosenberg said, there is the "huge problem of rebuilding infrastructure for both countries. I would hope another similarity isn't going to be that America too soon loses interest and leaves before these countries are back on their feet."
Unlike in Iraq, Rosenberg pointed out that international non-governmental organizations have a strong presence in Afghanistan. Along these lines, the Famine Center was asked early on to do a needs assessment there, even while the bombing was still going on.
Rosenberg illustrated his talk with slides, showing a picture of snow-covered mountains in Kabul and noting that the snow is "good news after a five-year drought." Another slide revealed several Afghan children, many of whom suffer from stunted growth but not from malnutrition. The infant and mortality rates in Afghanistan are, according to Rosenberg, "as bad as anywhere in the world," and there is only one pediatric hospital in the country.
Still, with a nutrition department now in place, things have been improving, but as Rosenberg lamented, "it is a frightening idea that resources are going to be pulled away. [In the past] we saw this in Bangladesh. The world community came together, and infection rates dropped." Subsequently, resources were diverted to Vietnam, and infection rates began to worsen again. In Afghanistan, not only is the nutritional status of the Afghan people at risk, but so is the society as a whole. "If things don't go forward, a lot of people will join up with the warlords," Rosenberg said.