Cross-school collaboration

Dental and engineering faculties plan joint research
by Marjorie Howard

The schools of Engineering and Dental Medicine are developing programs that will allow them to collaborate on research as well as on establishing joint courses between the two schools.

"The field of bioengineering and tissue engineering is something that the dental research field is very much interested in," said Dr. Petros Damoulis, associate professor of periodontology and director of graduate studies at the dental school. He said there are established connections between engineering and dentistry in the area of dental materials research. But there are also common interests in working with tissue and learning what affects healing.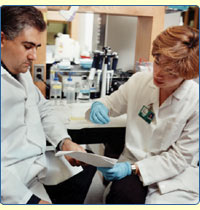 © Kathleen Dooher
Biomedical engineering focuses on the design of tools and instruments for medical and biological applications. The work is interdisciplinary in nature, bringing together such fields as medicine, biology, computer science and mechanical and electrical engineering.
David Kaplan, chair of biomedical engineering, said the plan is to establish joint graduate advising committees for dental students with faculty from both schools involved. In addition, a biomaterials course will be taught jointly by faculty members from both schools.
"There's a huge need for the next generation of dental materials, and that involves both engineering aspects of materials and biological interactions," Kaplan said. "These are areas where we can work synergistically together. The new generation of fillings is based on polymers and composites. There is still a lot of room for improvement, room for leaning how to deal with dental diseases and even replacing missing teeth, which would involve everything from tissue engineering to biomaterials in general."
For example, Kaplan said, "There's been recent work done where researchers have learned the preliminary aspects of taking dental stem cells from the pulp of teeth and regenerating bone tissue that looks like teeth."
Kaplan said there may be new ways to think of dental restorations that could be created in the laboratory to perform the way they would in the body.
Among the proposals the two schools are discussing:
The development of a materials science course for dental students taught primarily by engineering faculty
The establishment of an agreement for course cross-registration between the two schools
The facilitation of the exchange of ideas and research between faculty members from the two schools
Inviting engineering faculty to dental school research lecture series
Joint appointments for faculty in the two schools
Damoulis said it is expected that faculty from the engineering school will serve as mentors to dental students. In addition, he said, "One of our goals is that after we develop basic research and course collaborations, we can start to discuss a joint Ph.D. program. The School of Engineering already has a model for this with the School of Medicine, so we feel that it could work here, too."