Aha moments

University-wide, students enrich their education with research
by Marjorie Howard

Lorraine Cordeiro traveled to Tanzania to learn about nutrition and health among adolescents. She came back to Tufts with a better understanding of life in Tanzania and a dissertation topic for her doctoral degree. Sarah Jackson collected journal entries from girls in an urban neighborhood, girls who, she said, "are absent from the literature on adolescent development." She learned that many of the girls say adults stereotype them by race, class and gender and describe them as stupid, lazy and unwilling to work hard.

Cordeiro and Jackson presented their findings at a poster session on the Medford/Somerville campus on April 28. Their research was part of a group of seven projects sponsored by the Tufts University Center for Children (TUCC) and the University College of Citizenship and Public Service (UCCPS).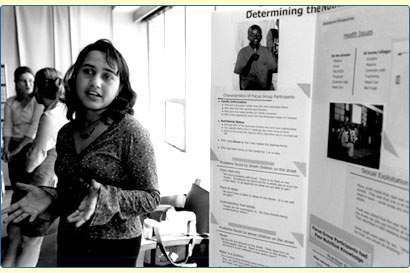 © Jacob L. Silberberg
Susan Ernst, dean of Arts and Sciences, commended the students for their work and the sponsors for their support. It is important, she said, that "each student has the opportunity to have that moment of discovery, to know something no one else knows." She also pointed out that the research represented "a combination of undergraduate and graduate research as well as cross-school initiatives."
Engaged learning
Said Provost Jamshed Bharucha, "This is the best of what Tufts has to offer. This is engaged learning, and the fact that you come from different schools is fantastic. I know from talking to some of you the passion you feel about your work. That passion transforms you, and you will remember this for a long time."
Cordeiro is a student at the Gerald J. and Dorothy R. Friedman School of Nutrition Science and Policy. During her stay in Tanzania, she ran three focus groups, examining health priorities for adolescents. "I thought most of the children on the streets whom I interviewed were going to be children orphaned because of AIDS," she said. Instead she found that 70 percent were living on the streets because of abuse in the home. Their problems, she learned, were a lack of food and no place to sleep, and 60 percent of the boys had stunted growth, meaning their height was below the fifth percentile for American boys. Because of the work she did in Tanzania, Cordeiro's dissertation will be on nutritional risk factors in vulnerable youth.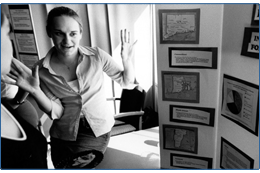 © Jacob L. Silberberg
Jackson, who is earning a joint master's degree from the departments of Child Development and Urban and Environmental Policy and Planning, studied "girls you don't hear from very often, Latina girls in low-income neighborhoods in a large city." Jackson said she was interested in their relationship with adults and how stereotypes affect their relationships. She learned they are aching for good relationships but not getting the support they need at school.
Patricia Kapunan, a second-year student at Tufts School of Medicine who is also earning a master's degree in public health, led a guided workshop for teenagers enrolled in a mental health services program who were taught how to use digital cameras and desktop editing software. The group made a movie about how music and race influence the way teens feel about themselves. The project was funded by the two Tufts programs and by the medical school's student council. "Medical students will see the movie, and it will be used as a way to talk about the teen population," said Kapunan.
Undergraduate research
Undergraduates also participated in the program. Laura Lessard, a junior majoring in community health and American Studies, examined how AIDS education is being taught at schools for the deaf in New England. Another junior, Cecilia Chen, evaluated Building Bridges, a yearlong service learning program sponsored by UCCPS in Boston's Chinatown neighborhood. Diana DeLuca, a senior majoring in engineering psychology, and Laura Hacker, a senior studying child development, reported on their work with the Robotics Academy, a program about teaching and learning with technology at the School of Engineering.
Sarah Anderson, another Friedman School student, examined an ongoing study begun in 1975 to learn more about whether certain psychological disorders among children, namely depression, anxiety and obsessive symptoms, are predictors for obesity.
Dr. Howard Spivack, director of TUCC and a professor of pediatrics at the School of Medicine, said he was impressed at the broad range of work represented by the projects.
Molly Mead, assistant professor of urban and environmental policy and planning, said, "We talk a lot about active citizenship being the hallmark of UCCPS. These are fabulous examples of what we mean, activities in which students learn something and also advance knowledge, in this case making the world a better place for children. We are so delighted TUCC invited us to dance with them."