Fares Lecture
Former President Bush to offer his perspective on the Middle East
Former President George H.W. Bush will deliver the 2003 Issam M. Fares Lecture February 26 at 4:30 p.m. in the Gantcher Family Sports and Convocation Center on the Medford/Somerville campus.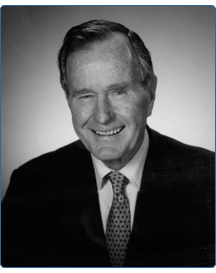 George H.W. Bush
"We are honored that former President Bush will be sharing his insight and wisdom on world affairs as the 2003 Fares lecturer," Tufts President Lawrence S. Bacow said. "He is uniquely suited to comment on the challenges in foreign affairs that our world is confronting."
Bush, who served as the nation's 41st president, will speak on "Perspectives on the Middle East." The lecture will be followed by a question-and-answer session.
During Bush's presidency, the Cold War ended; the Soviet Union was replaced by a democratic Russia; the Berlin Wall fell, and Germany was reunified. He assembled a coalition of 32 nations to liberate Kuwait after Saddam Hussein invaded that country.
Since leaving office, Bush has written two books—A World Transformed, co-authored with Gen. Brent Scowcroft, and All the Best, a collection of letters. The George Bush Presidential Library and Museum—the country's tenth presidential library—opened on the campus of Texas A&M University in November 1997.
Fares I. Fares, A93, a trustee and member of the university's International Board of Overseers and the Board of Overseers for Arts & Sciences and the son of former trustee Issam M. Fares, deputy prime minister of Lebanon, conceived of the lecture series in 1991 as a way of furthering understanding of issues facing the Middle East. The Issam M. Fares Lecture Series, which is supported by an endowment from the Fares Foundation, is the fulfillment of that idea. Since graduating from Tufts, Fares Fares has remained active on the committee that plans the lecture series and serves on the executive committee of the Fares Center for Eastern Mediterranean Studies at Tufts.
Previous Fares lecturers have included President Bill Clinton, Colin Powell, Margaret Thatcher, James Baker, George Mitchell and former French President Valery Giscard d'Estaing.
Ticket information for the February 26 lecture will be announced closer to the event.