Cultural understanding
Saudi Arabia: delights for the mind and palate
Skye Schulte, who received a master's degree in nutrition communication and an M.P.H. from Tufts in 2002, recently returned from two weeks in Saudi Arabia as part of a U.S. delegation to promote understanding through better communication.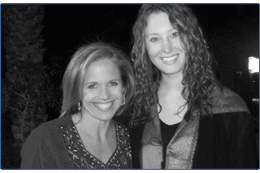 Nutrition alumna Skye Schulte and "Today" co-host Katie Couric
Saudi Prince Faisal al Saud and Gregory Payne, adjunct associate professor of family medicine and community health at Tufts, developed the Saudi-American Exchange Program in the wake of September 11 to improve understanding of the culture and people of Saudi Arabia. "One of the ways we experienced the hospitality and rich culture of the Saudis was through the delicious meals," said Schulte. "Good food can transcend language and other cultural barriers and quickly brought us to a comfort level in discussing U.S. foreign policy and the misrepresentation of Saudis in our media."
The visit also included meetings with Saudi princes and princesses and representatives from the government, Arab media, and academic, health care and philanthropic organizations. Schulte appeared on NBC's "Today Show" with Katie Couric during a series of live broadcasts from Saudi Arabia. The visit was also covered in media throughout the Arab world.