Pomp and circumstance
With a nod to their families, 2,200 students receive their diplomas
by Marjorie Howard
They carried cell phones, bottles of water, bouquets and the student newspaper. And one Arts & Sciences graduate also wore a sign around her neck—"Thanks, Mom"—that summed up one of the themes of a day filled with solemn messages, emotion and thoughts of the future.
Tufts University's 147th Commencement, honoring 2,203 graduates, took place on the Medford/Somerville campus under bright sunshine on May 18. President Lawrence S. Bacow told the graduates and their families and friends, "Commencement is always a beautiful day. Some days we happen to also enjoy beautiful weather." He called the ceremony a "rite of passage that represents the culmination of the work of students, faculty and staff. It is also a day of profound joy."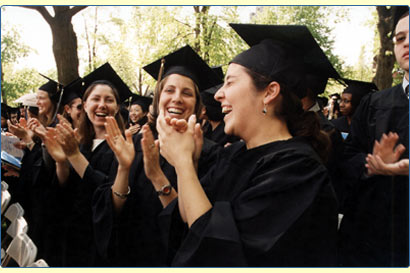 © Mark Morelli
Bacow reminded the graduates that "all of you have had help and many people who have sacrificed on your behalf" and asked the students to thank their families and teachers. He also asked them to thank Nathan Gantcher, A62, chairman of the Board of Trustees, who will step down in November. "He has been a tireless supporter of this institution and a good friend and colleague to all of us," Bacow said. Gantcher spoke briefly, asking the graduates to recognize their parents, sisters and brothers. When they stood and applauded, he remarked, "What they've just said, Mom and Dad, is thank you." He added, "Tufts University is a wonderful place. I hope it will be an integral part of your lives for a long time."
Honorary degrees
This year, 1,009 graduate degrees and 1,194 undergraduate degrees were awarded to students from Tufts' seven schools. Margaret Marshall, chief justice of the Massachusetts Supreme Judicial Court, was the main commencement speaker. Marshall, Arthur Mitchell, founder of the Dance Theatre of Harlem; Mario Molina, a Nobel Prize-winning environmental scientist; and Agnes Varis, founder and CEO of the New Jersey-based pharmaceuticals company Agvar Chemicals Inc., were awarded honorary degrees.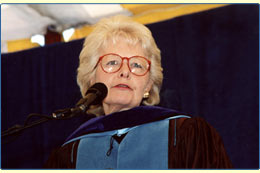 © Mark Morelli
In presenting Marshall with an honorary doctor of laws degree, Bacow cited her "firm belief in democratic principles, wise stewardship of this Commonwealth's highest court and keen, personal understanding of the role that both education and the law play in the advancement of a democratic society." Mitchell's honorary doctor of fine arts citation read, in part, "Your love for dance and your commitment to better the lives of children by infusing the joy and rigor of performance resulted in the formation of the Dance Theatre of Harlem in 1969. Your bold venture was an overnight success, and now, more than 30 years later, continues to underscore the importance of faith, encouragement and opportunity in the education of young people."
Molina's research on chlorofluorocarbons ultimately led to the adoption of the Montreal Protocols that banned CFCs worldwide. He received an honorary doctor of science degree "for the integrity of your scholarship and for the sense of global responsibility that you impart to the scientific community...[as a] steward of our fragile planet." In awarding Varis an honorary doctor of public service degree, Bacow said, "In both politics and science, you have encouraged talented women to push aside gender barriers, as you have done throughout your own life, to create a cadre of new leaders for the new century."
Marshall told the graduating students, "Your diploma is a testament to your hard work, but also a pact to give back and to lead."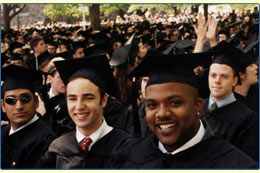 © Mark Morelli
Marshall spoke of her own experience growing up during the era of apartheid in South Africa. "I grew up in the small, isolated and racially segregated village of Newcastle, South Africa, in the heyday of apartheid. In Newcastle, white residents and black had no opportunity to meet in schools, parks, neighborhoods or anywhere else, much less to exchange ideas…I never had a conversation—not one—with a person of color who was not a servant or subordinate. And it all seemed quite normal to me…All of my white friends, like me, had learned to sing in unison, but in a song of one note."
Marshall said she learned "that the human voice is capable of a greater, a far greater range" during a visit to the United States as a high school foreign exchange student in Wilmington, Del., in 1962. It was, she recalled, a time of immense national turmoil and uncertainty, with the civil rights movement at its height and nuclear war with the Soviet Union a real possibility. "I was absolutely astonished to find the day's great issues were fervently and openly debated, to be in a land where people disagreed without apology or fear of punishment, where the right to speak out was claimed as a birthright by men and women, blacks and whites alike."
Marshall said her experience in the United States along with her attendance at a university in Johannesburg where professors and students dared to confront apartheid "taught me that without academic freedom, without freedom of thought, without the liberty to question even the most established orthodoxies and to be exposed to the broadest possible range of people and views, justice and equality can never be achieved."
A call to leadership
"Tufts and other highly selective universities have been in the forefront of promoting a diverse university community. The reason is clear. A richly textured faculty and student body enables a great university to fulfill its two core missions: the advancement of knowledge and the education of effective leaders. Many people do not share all of your values, opinions, prejudices or backgrounds—or any of them. The world is full of questions waiting to be answered and questions waiting to be asked."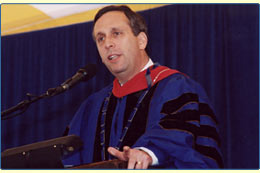 © Mark Morelli
Marshall asked the graduating class to "remember always your experiences at Tufts. For there has seldom been a more urgent need in this nation and in this community of nations for leaders who can disagree without name calling, who can criticize without destroying, who can be firm without rigidity. Your teachers have taught you to be open-minded and curious; they have taught you to be impatient with things as they are and not to mistake excuses for answers. They have taught you to work together. They have, in short, given you the tools to make a difference. How you use those tools will shape the arc of your own lives and be the legacy of your generation."
After the main ceremony, graduates and their families participated in degree-awarding ceremonies for their individual schools. Speaking at the Fletcher School of Law and Diplomacy, which awarded 162 graduate degrees, was Dr. Mohammed ElBaradei, director general of the International Atomic Energy Agency, which carried out weapons inspections in Iraq. In his speech, ElBaradei called for greater interdependence on such global issues as nuclear weapons.
"We think globally in terms of trade," he told the audience, "but we continue to think locally in terms of violent conflicts." ElBaradei said that only when human security is recognized as something that is both global and interdependent, will the world achieve peace and justice.
The Gerald J. and Dorothy R. Friedman School of Nutrition Science and Policy held its 22nd commencement and celebrated the 25th anniversary of the founding of the Institute of Nutrition, the precursor to the school. Dean Irwin H. Rosenberg toasted the silver anniversary as he acknowledged the 69 students who received degrees.
In the ceremony for the schools of Arts & Sciences and Engineering, Elaine Wang, winner of the 2003 Wendell Phillips Award, gave the student oration. Faculty awarded emeritus certificates were Alan J. Clayton, professor of French; William J. Crochetiere, professor of mechanical engineering; Pierre H. Laurent, professor of history; Sarah M. Terry, associate professor of political science, and George Leger, Robinson Professor of Mathematics.
Fire and science
Rosenberg, who will step down next year after serving as dean for 10 years, took the occasion to review some of the school's activities that have had worldwide impact. He applied the word "hubris" to detail the accomplishments, noting that the ancient Greek word literally means "the prideful sin of man in embarrassing by outdoing the Greek gods." He continued, "We have chosen a school that has the hubris to believe that the light of fire and science can be used to influence policy and even history in working toward the wellness of mankind."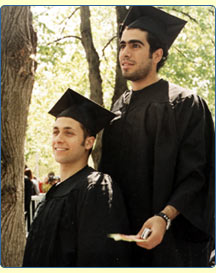 © Mark Morelli
Rosenberg concluded his speech by noting that although in some parts of the world hunger and malnutrition are stagnant and even worsening in areas of conflict, the graduates of the Friedman School of Nutrition Science and Policy "…have chosen a profession and calling that states…that we can use science to make a difference, that we can have the hubris to insist that knowledge and science can and must modify genetic fate."
At the School of Dental Medicine, Dean Lonnie H. Norris commended the 219 members of the Class of 2003 for "maturity and compassion, for unity, morale and dedication to excellence."
Chosen by students and the dean to receive awards for teaching excellence at the school's 135th commencement were Peter Brodeur, associate professor of pathology for basic science; Dr. Charles Rankin, associate professor of endodontics, and Dr. Anthony Silvestri, associate clinical professor of prosthodontics and operative dentistry, for preclinical teaching; Dr. Roya Zandparsa, assistant professor of prosthodontics and operative dentistry, and Dr. William Lobel, assistant clinical professor of prosthodontics and operative dentistry, for clinical teaching; and Gina Marcus and Hyon Chol Lee, both D03, for student teaching. In addition, Dr. John Meade, associate clinical professor of general dentistry, received the provost's award for Outstanding Teaching and Service.
Dr. Frank Susi, senior associate dean, was awarded the status of professor emeritus. Norris noted that Susi had developed community service clinical rotation programs and seen the school through two successful program re-accreditation processes during his 35-year tenure. Susi will continue to teach histology.
A haven
The president of the dental school's international student class, Dr. Siema Hassan, thanked the audience for "compassion and understanding and helping make the school a haven" for international students in the wake of the Sept. 11, 2001 terrorist attacks. She noted that the 26 international dentists in the class came from Colombia, Nigeria, India, Iran, Iraq, Syria, Sudan and Sri Lanka.
The School of Medicine granted a total of 210 degrees and the Sackler School of Graduate Biomedical Sciences awarded 27 diplomas at their joint commencement ceremony. Dr. Paul Wang, associate professor of medicine, reminded the graduates that their passage through school had involved a process of dedication. "You began by dedicating yourself to a career with little idea of what it would require," he said. Now, he continued, it is appropriate that the new graduates proceed to dedicate their work to those people to whom they are indebted—their parents, teachers, colleagues and friends. He asked the graduates to do something for one person every day to make a difference in the world. "You're the best and brightest," he said. "You're the future of medicine, and we are proud to have taught you."
Sacred relationship
Dr. Nicolaos E. Madias, dean ad interim of the medical school, urged the newly minted doctors to remain faithful to what he called the "eternally sacred" doctor-patient relationship. "Physicians can have only one master, their patients," he said. He further advised the graduates to remember that "the patient is a whole person," to continue learning throughout their medical careers, to be open to the idea of teaching as a way to pass along what they know to younger generations and to pursue research.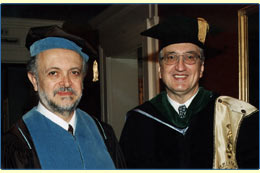 © Mark Morelli
Dr. B. David Stollar, dean ad interim at the Sackler School, noted that 2003 marks the 50th anniversary of the discovery of DNA. He expressed concerns about restrictions being placed on some foreign-born researchers because of the current international climate of fear and suspicion. "We need to sustain our culture of free and open exchange," he said. "We should be making bonds, not making barriers."
25th anniversary
The School of Veterinary Medicine marked its 25th anniversary during its ceremony honoring 81 doctors of veterinary medicine and eight recipients of master's degrees. Dr. Gary Patronek received the Norden Teaching Award, Dr. Andrew Hoffman the Pfizer Excellence in Research Award, and Dr. Saul Tzipori was promoted to Distinguished Professor. Former veterinary school Dean Franklin M. Loew, who died in April, had been invited to be a speaker at commencement. His speech was read by his wife, Deborah Digges, professor of English at Tufts.
If you would like to view a webcast of the 147th Commencement, go to http://commencement.tufts.edu/webcast