Lighting up Prague

Students translate King Lear into light and music for international exhibit
by Marjorie Howard

The students in Judy Staicer's lighting class are intimately familiar with King Lear. They know it as the four-hour drama, filled with angst, passion, family strife and riveting language. But they also know it as a five-minute, 30-second wordless drama they have created with moving lights and music.

The five undergraduates who took Staicer's Advanced Lighting Design class have created their own King Lear, using advanced computer technology that allows them to design lighting and then see on a computer screen what will be shown in the theater.

'The Olympics'
On June 17, they will present their version of Shakespeare's play at the Prague Quadrennial, a worldwide exhibition of stage design and theater architecture held every four years. Until now, the exhibition—known as "the Olympics of stage design"—has included only scenery and costume design. This year, for the first time, the Quadrennial will feature the work of world-class lighting designers as well as the work of students. About a dozen universities from around the world were invited to participate, including schools from Tel Aviv, Brussels and Hong Kong. Tufts is one of three American universities in the Quadrennial along with Stanford and Carnegie Mellon.

"To say this is a rare opportunity for our drama students is an understatement," said Staicer, a full-time lecturer in the drama and dance department. "Not only does this event occur only once every four years, I have only once before had the opportunity to teach an upper-level lighting design course. That there was a demand for this course just before the 2003 Prague Quadrennial is a happy, once-in-a-lifetime accident that has created a unique educational experience."

When Staicer first learned of the opportunity for her students to participate in PQ, as the Quadrennial is known, she knew the first thing she had to do was purchase visualization software and hire someone to teach the students to use it. She obtained funding through the offices of Provost Jamshed Bharucha and deans Susan Ernst and Charles Inouye as well as from her own department. The software is called WYSIWYG which stands for "what you see is what you get."

Lear on CD
A visit to the classroom where students have been working on the project reveals two computer screens. On one screen is what looks like a lighting console with gray bars representing the various lights and their colors, focus and wattage. Students do the programming on this screen, and the results are viewed on the other screen. When they are finished, they will have a CD they will merely pop into a computer at the PQ, and what they have designed and seen on a computer will be displayed with real lights in a real theater.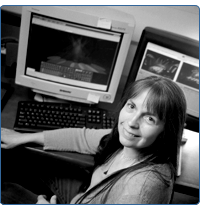 © Mark Morelli
"The computer takes color and focus wattage and spits it out in any organization you want," said Staicer. "You can use this for stationary lighting, too. Before using this software, when I did lighting design, I created light plots or maps on paper that would show where the lights would go. I couldn't show the director what the lighting would actually look like. This vastly enables the communication process between the director and designer, who can view lighting ideas on the computer screen."
The Tufts students had the same assignment as did all the other students participating in the PQ: Design a three- to seven-minute moving-light program using the same setup that everyone will have in Prague and base it on King Lear. Moving lights, commonly seen at entertainment events, can be programmed to move anywhere on the stage and form shapes, patterns and different colors as they move.
A journey of light
For King Lear, the students used such elements as three circles to represent the king's three daughters and a rotating red figure in the center to represent Lear. But while there are some specific narrative elements of the design, most of the work is intended to convey a sense of Lear's emotional and spiritual journey from being king through rejection, despair, reconciliation and, finally, death.
The students broke the play into five sections, and each student was responsible for a section and also chose the music to be played along with the lighting design. At first, the students worked separately but then collaborated to make colors, symbols and patterns work together.
"With regular lighting, all you can do is turn the lights on and off," said Staicer. "With these lights, there are as many as 32 different parameters that establish the tilt, the colors and the patterns. All the universities are using the same software and equipment, and it will be interesting to see how King Lear is viewed through the lenses of different cultures."
Colin Teubner, A03, who majored in economics and computer science, has long worked in theater at Tufts and has been involved in productions put on by the university drama group Torn Ticket II. One other student in the class is a drama major, and the others are studying engineering. Usually, said Teubner, when designing with moving lights, one person is the lighting designer, and another is the programmer. But in this case, "we did it all."
Said Teubner, "I had the last section of the play. The interesting thing about this tragedy is even though there is no hope for these characters, there is hope for humanity, and we can learn from our mistakes."
Amazing tools
The students not only learned about creating complex moving light designs using two very sophisticated pieces of software in tandem, they examined every possible aspect of King Lear. "We did a number of readings of the play and also did research," Staicer said. "We tore the play apart and translated it into music. Then the students created their lighting cues for the music. Some of the lighting is literal and represents things in the play. Some is figurative and represents mood. It's been an artistic, intellectual and technical exercise. It demanded a different way of thinking and experimenting.
"One of the fundamental challenges is that anyone can make lights move. The goal is to use these amazing tools to make a meaningful design that communicates something to an audience."
In addition to Teubner, the other students involved in the project are sophomores Aaron Held and Peter Kracke as well as Jessica Shaw, a junior, and Paul Toben, a freshman. All the students will be traveling to Prague and will be paying for most of the trip themselves.