Nothing but net

Celtics star pledges $2.5 million to the hospital that saved his life

Two-and-a-half years after Tufts doctors saved Paul Pierce's life following a knife attack at a Boston nightclub, the Boston Celtics star has helped to expand the high-tech surgical center at Tufts-New England Medical Center that helped make his dramatic recovery possible. "This is an opportunity for me to give back to the hospital that was there for me when I needed it," said a grateful Pierce.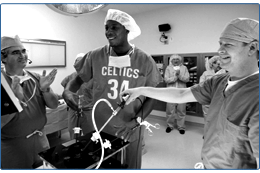 © Matthew West/The Boston Herald
Speaking to reporters at a ceremony marking the opening of three new operating suites equipped with the latest surgical technology at Tufts-NEMC, the principal teaching hospital for Tufts School of Medicine, the high-scoring Celtics center pledged $2.5 million through his foundation to provide the hospital with four additional suites. In the new suites, surgeons can speak to voice-activated machines, ordering them to perform routine tasks, such as increasing illumination in the room—thereby freeing medical personnel to concentrate on the business at hand.
Tufts doctors used the high-tech equipment to perform laparoscopic surgery on Pierce when he suffered severe stab wounds to his face, neck and back, including one stab wound that damaged his lung and abdomen. "Using miniature cameras inserted through tiny incisions in his abdomen, the surgeons [led by Dr. Roger Graham, assistant professor of surgery at Tufts] were able to inspect the damage and then, using tiny surgical instruments placed through other tiny incisions, repair the injuries," reported the Boston Herald.
These tiny incisions healed faster than larger cuts would have, reducing pain, minimizing scars, speeding up recovery time and enabling Pierce to be back on the court within a month. The Celtics star, who has averaged better than 25 points per game this season, is now fully recovered.