New concentration
Helping children express themselves through technology
by Marjorie Howard
A new concentration for graduate students studying child development will teach them how to use computers and technology to work with children—to help students better understand children and themselves.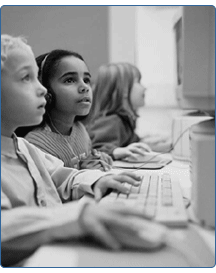 Starting this fall, students in the Eliot-Pearson Department of Child Development can choose to study New Technologies and Human Development, which is aimed at preparing students to use, design and evaluate new technologies for young people. The interdisciplinary program will be one of seven concentrations that students may choose from for their graduate degrees. Students pursuing master's or doctoral degrees may elect to complete the requirements of a concentration to help focus their course of study toward career goals. There are now seven departmental concentrations: Children with Special Needs; Clinical Developmental Psychology; Cognitive Development; Educational Studies; Family Studies; Language and Literacy and New Technologies and Human Development. Each concentration reflects the department's overall developmental orientation as well as its commitment to theory, interdisciplinary research and application.
Preparing teachers
Marina Bers, assistant professor of child development, said the new concentration is one of the first of its kind in the United States. Usually, she said, programs that combine the study of children and technology are either based in education departments and focus on educational technology, or in computer science programs that require a strong computer background.
"One of the areas the concentration will focus on is early childhood education, where more and more technology is being introduced, and teachers are not prepared," said Bers. "Students will be required to take courses in computer science and engineering but will also be studying how children grow and learn."
Bers said technology can be used to help children express themselves socially, spiritually and emotionally and also help increase linguistic and intellectual development. One of her own projects was the creation of a computer environment to help children undergoing dialysis in a hospital. Children were able to create a fantasy world on the computer where they played out their fears. "They made graphic representations of themselves," she said. "We provided tools for them to build a city and make a virtual home and create community spaces. Some kids created a space they called the 'renal rap room,' where they could talk to each other. The hospital psychiatrist put stories online that helped the children cope. The nurses became very involved, and we had to train them as they had no background in computers or knew what can be done with technology."
In April, Bers will direct a workshop at the Tufts Educational Day Care Center and the Eliot-Pearson Children's School in which parents and children will choose a family or cultural value that is important to them and then create a robot using LEGOS, motors, sensors and art materials that will help demonstrate that value. Young children and their parents will be learning the ROBOLAB programming language, a software program for specialized LEGO bricks whose developers include faculty at Tufts.
Graphic representation
When she did a similar project in Argentina, Bers said, a Jewish family talked about looking at past actions during Yom Kippur, a holiday in which one thinks about the meaning of the past year and then symbolically casts away sins. The family made a conveyor belt that could transport their actions. If one button was pressed, the belt kept going. If a different button was pressed, the action went into a trash can, giving the children a chance to not only think about the meaning of the holiday but see a graphic representation of their actions.
Bers said graduate students choosing the new concentration would take courses involving how children develop socially, intellectually and linguistically and also might study statistics and programming. In addition, they will do internships in settings where technology that centers on children is used, designed and evaluated. Graduates might go into research and academia but also could be hired by schools, museums and hospitals.
The development of the new concentration comes from the realization that technology is playing an increasingly important role in the lives of children and the adults who take care of them, Bers said.
"We expect that this concentration will attract a new kind of student to our department," she said. "For example, we have already received applications from students who were trained as engineers or computer scientists and after a couple of years in the field, realized their interest and their hearts weren't in technology per se, but in the possibilities that technologies offer for children's growth and development. We also received applications from students who love children but do not have any previous experience with technology but are very interested in learning about their potential to change the lives of children and their communities."