Play ball

Senior hurls second no-hitter

Senior Jon Lee pitched a seven inning no-hitter against Bates College on March 29 to lead the Tufts baseball team to an 8-0 victory. It was the second no-hitter of his Tufts career, including one against Bowdoin on May 7, 2000, during his freshman season. Lee struck out eight and walked one.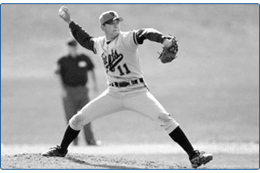 Senior hurler Jon Lee
Tufts junior Randy Newsom was nearly as good in the second game of the double-header against Bates, allowing just two hits in nine innings for a 5-0 win, giving Tufts the sweep. The double win moved the Jumbos to 8-4 overall and 3-0 in the New England Small College Athletic Conference East Division.
In Game 1, the Jumbos were only able to score in the fourth inning, but impressively scored eight runs on five hits off Bates starter Billy Karz. Junior DH Greg Hickey continued his monstrous hitting with a single to right field, scoring both center fielder Evan Zupancic and first baseman John McBride. Zupancic scored two of Tufts' eight runs. Bates committed all four of their errors in the fourth inning. Hickey was 2 for 3 with a run and three RBIs in the first game.
Newsom came out in Game 2 with a tremendous follow-up to Lee's pitching as he went four innings before the Bobcats were able to earn their first hit of the day. In the fourth inning, Bates' Drew McKenna hit a line drive to right field. It was immediately followed by another line drive from Bates' John O'Neill that Tufts freshman first baseman Matt Clement made a leaping catch for and touched first to earn an unassisted double play.
Both Tufts third baseman Adam Kacamburas and Zupancic went 2 for 3 in Game 2. Junior right fielder Drew Blewett scored two of the five Jumbo runs, including one after a two-out double in the third. Newsom finished the game with 11 strikeouts—three in the ninth inning.
Tufts extended its winning streak against Bates to 24 games.