Field of dreams
Former provost takes the mound at Fenway
While Red Sox ace Pedro Martinez didn't make his scheduled appearance at Fenway Park against the Texas Rangers on August 22, one of Tufts' aces did. Sol Gittleman, who just completed a 21-year tenure as university provost, took the mound to throw out the first pitch. By all accounts, it was a strike.
"It was a thrilling evening, I've got to tell you," said Gittleman, a professed baseball fanatic who once billed the provost's office as a place to get "advice, conversation, wisdom and baseball trivia."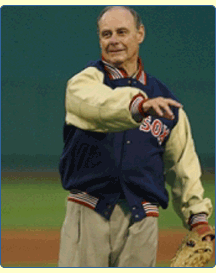 By all accounts, Sol Gittleman's pitch was a strike.
Only told that he would hurl the first pitch a couple of weeks before the Texas game, Gittleman said, "For two weeks, I worried about my rotator cuff and whether I could reach the catcher. I did. It was Lou Merloni, who said I hurt his hand."
Having his children and grandchildren on the field with him, Gittleman said, was the evening's biggest thrill.
Ranking a close second was the reception he got from fans as he made his way off the mound. "As I walked from the field, I must have met a dozen Tufts people who came down from their seats, yelling 'Hey, Professor Gittleman!' and 'Where's Mrs. Gittleman?' " Also in the crowd were Tufts President Lawrence S. Bacow, Nathan Gantcher, chairman of the Board of Trustees, trustee Jim Stern and 60 alumni who were on an outing with the Boston Tufts Alliance.
Before his Fenway debut, Gittleman and his family had dinner at the ballpark's 600 Club. Tony Massarotti, a 1989 Tufts alumnus who covers sports for The Boston Herald, "came by when we were dining and spent an hour with us," Gittleman said. "He is the best baseball writer in Boston."
Gittleman, who played collegiate baseball for Drew University in Madison, N.J., wanted a baseball career in the worst way. He was good, but not good enough for the big leagues, and John Schabacker, the manager of the Drew team, told him so. Instead, Schabacker, who also taught German, saw a teacher in his young shortstop. The rest, as they say, is history.
This fall Gittleman is back in the classroom as the Nathan and Alice Gantcher Distinguished Professor of Judaic Studies and a professor of German. He says he'll also have more time to indulge in America's favorite pastime.