U.S. assistance makes a difference in Armenia
by Dianne Tsitsos
Imagine living in a country where you cannot own property. You cannot buy or sell a home or leave it to your children. You can't own the land you farm or the property on which you do business. Indeed, you would have a very hard time doing any kind of business at all, because there is no banking system as we know it, no possibility of getting a mortgage or other credit, no judicial system to enforce a contract.
This was the situation confronting the republics of the former Soviet Union when the USSR broke up more than a decade ago.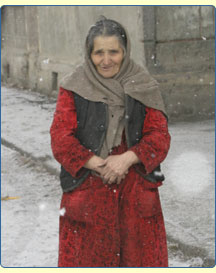 © Todd Calongne
The former Soviet Republic of Armenia, a tiny country that is landlocked and surrounded by sometimes-hostile neighbors like Turkey and Azerbaijan, faced all of these problems and more. In 1988, a terrible earthquake had devastated sections of the country, and the subsequent fall of the Soviet Union meant that virtually no rebuilding had occurred since that time. Ten years later, more than 26,000 households were still living in "temporary" shacks without heat, electricity or running water.
But the Armenians were not facing their problems alone. They had many friends in the United States. The Armenian-American community was determined to see that their ancestral home, which had suffered so much over the centuries, would receive strong support from the United States now that Armenia had finally achieved independence. They gave millions of their own money to help. And they urged the U.S. government to help, too, through a generous foreign assistance program. The U.S. Agency for International Development (USAID) administers this assistance in Armenia and in many other countries around the world.
In 1998, I became the director of the USAID mission to Armenia. I had just spent two years as deputy director of the USAID office in Almaty, Kazakhstan, working in five countries of Central Asia, and I was eager for the opportunity to run my own mission.
The challenge of solving the housing problems of thousands of earthquake victims a decade after the earthquake was much more difficult than I had expected.
In the years since gaining independence, Armenia had made considerable progress in changing its laws to permit private property and create a market economy. These changes were not easy. Citizens were suffering from the loss of the Communist cradle-to-grave social safety net that guaranteed them jobs, education for their children, health care, pensions and even vacations. Now there was little likelihood of anything but hardship.
The vague concepts of "freedom" and "democracy" were scant compensation for many Armenians who were not able to feed their families. So it took some courage for Armenian officials and politicians to push forward with the reforms needed to create a free and competitive market economy and a democratic political system.
USAID programs helped guide the Armenians to put in place the laws and regulations that would enable families to buy and sell homes and to have a secure title to their land. Laws alone, though, were not enough. The earthquake victims had lost everything, and the building of a free market and private businesses had not yet produced the jobs that would allow them to afford to buy their own housing. Consequently, a portion of U.S. foreign aid for Armenia was set aside to provide housing for them.
At first, Armenian President Robert Kocharian urged us to build new housing for the victims. We knew, however, that building new housing would cost so much that not very many families would be helped. So we proposed to use housing vouchers to enable the families to buy vacant housing already available on the local market. It was not as attractive an idea as building shiny new units, but President Kocharian quickly saw that helping more families move into decent permanent housing was more important, and he became a strong advocate of the project.
We worked hard to put in place a system that would ensure that the funding for the vouchers reached the families in need, and that those families would have the help they needed to find and negotiate for decent housing. We also had to be careful that people who had housing units to sell were treated fairly and had other places to move into. We did not want our program to entice other needy people to sell their homes to raise cash for immediate needs.
We used some of the project money to hire an American company experienced in these issues to design and execute the project. The government in Armenia, having rid itself of a corrupt official responsible for misappropriating other donor funds intended for the earthquake victims, was competent and honest. Government cooperation was crucial to the success of the housing program.
The highlight for me came when I had the honor of standing with President Kocharian and American Ambassador to Armenia Michael Lemmon to distribute the first housing vouchers to the earthquake victims. The families came dressed in their best, with children and grandparents, aunts and uncles all thrilled to be meeting their president, but also knowing that the housing vouchers they were receiving came to them from the people of the United States.
Some smiled, some giggled, and some cried as they received the pieces of paper that meant escape from the cold, drafty, ramshackle shelters they had endured for more than 10 years. But those pieces of paper represented more than decent housing to the 4,000 families we were eventually able to help. They also represented a commitment by the Armenian government to a free market, built on the idea that private property ownership is the foundation for a better life. Without the support of the United States, though, that commitment might not have been put into practice. That support was not just money; it was know-how and ingenuity.
If you're over 50 like me, you could not have imagined the end of the Cold War—the bomb, the Iron Curtain, air raid shelters and drills. Today, despite all the problems remaining, Russia and its former republics are allies in the war against terrorism.
The U.S. foreign aid program, paid for with less than one percent of the federal budget, helped make that happen by supporting the programs that gradually have brought the countries of the former USSR closer in their governance and policies to western democracies. In my opinion, it's money well spent.
Dianne Tsitsos is a career foreign service officer with the U.S. Agency for International Development. She received her undergraduate degree from Syracuse University and earned a master's degree in political science from Tufts University in 1973. She has served in Morocco, Sri Lanka, Central America, Central Asia and Armenia and is currently assigned to USAID in Washington, D.C. Her spouse, Ulrich Ernst, formerly with USAID, is an international development economist. When not working in Washington or overseas, they make their home in Mattapoisett, Mass.