Uhrig Gardens
Gardens honor Uhrig family
The new Uhrig Family Gardens and Terrace was dedicated on September 13 in honor of Miles Uhrig, A51, G52, the former director of undergraduate admissions, and his wife, Judith, J55.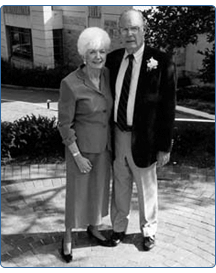 Judith and Miles Uhrig at the dedication of the Uhrig Family Gardens and Terrace.

© Mark Morelli
The couple's children, led by their son, Jonathan, chose to honor their parents by donating an outdoor space that will serve as a place for reflection and respite on the busy Medford/Somerville campus. The brick patio and landscaped sitting area between Eaton Hall and the Tisch Library offers a panoramic view of Boston and a place where passers-by may pause and enjoy the surroundings.
While neither Jonathan Uhrig nor his two siblings attended Tufts, the family's ties to the university are close. Miles Uhrig served Tufts for 38 years, retiring in 1994, and the children took a variety of classes and programs at Tufts. Joining in the ceremony were family and friends as well as faculty and staff, including David Cuttino, dean of undergraduate admissions, and Prof. Sol Gittleman, the former provost.