Interim dean
Madias appointed interim dean of the medical school
Dr. Nicolaos E. Madias, who has served as executive academic dean of the School of Medicine since 1999, will become the school's interim dean on January 1.
Madias "has made important contributions to the School of Medicine over the course of his career," Jamshed Bharucha, provost and senior vice president, said in announcing the appointment. "He will provide stability and continuity in the dean's office…until the next dean is named." Dr. John T. Harrington, who has been medical dean since 1994, announced earlier this year that he would step down on December 31.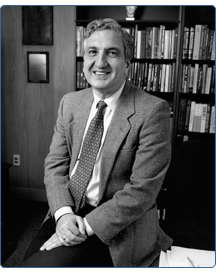 Madias received his M.D. degree from Athens University School of Medicine in 1968. After residency training at the Waltham Hospital and St. Elizabeth's Hospital, a Tufts affiliate, he joined Tufts School of Medicine, first as a research fellow in medicine in 1973 and then as assistant professor of medicine in 1976. He was promoted to associate professor in 1980, and professor in 1988. Since 1973, he has served in the Division of Nephrology at Tufts-New England Medical Center (T-NEMC). He was appointed director of research in the Division of Nephrology in 1981, and then served as division chief from 1982 until 1999, when he assumed his current position as executive academic dean.
In recognition of his contributions to medical education, Madias has received four citations for excellence in teaching. He has more than 150 publications to his name, has won numerous grants for his work and has served as an established investigator of the American Heart Association. Since 1983, he has been co-editor of the Nephrology Forum, Kidney International, and has played leadership roles in professional societies and at national and international meetings throughout his career. He was awarded the Distinguished Faculty Award at Tufts School of Medicine in 2000, the Oliver Smith Award at T-NEMC in 2001, and honorary doctorates from the University of Ioannina School of Medicine and the University of Patras School of Medicine in 2002.