Partners for kids
Tufts joins other institutions to help infants and toddlers
Tufts is offering a graduate course that may be the only one of its kind in the country, reaching not only across disciplines but across colleges and universities.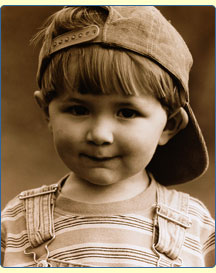 © Jules Frazier
The course on infant social and emotional well-being is taught by faculty from a collaboration of seven institutions called the University Partnership for Infant and Toddler Professionals. In addition to Tufts, the member institutions are Lesley University, Simmons College, Boston University, the Boston Medical Center, Wheelock College and the University of Massachusetts at Boston.
Started in 1998, the partnership comprises educational leaders and scholars representing the fields of pediatrics, child care, education, social work, psychology, mental health and occupational and physical therapy. The goal of the partnership is to ensure that infants and toddlers receive care that helps them achieve maximum physical, mental and emotional development. In addition to the course, the partnership has sponsored conferences and training programs.
The course is offered by faculty from the seven institutions. Sharon Ray, an assistant professor at the Boston School of Occupational Therapy at Tufts, and Ann Easterbrooks, associate professor of child development, have been among the faculty who have taught the course.
"This is an opportunity for graduate students across disciplines to learn about the issues and find out what other disciplines are doing and thinking," said Ray. "The exciting part is seeing students start from their discipline-specific world view and then expand that."
For example, she said, when studying children who have difficulty regulating themselves, that is, being able to sleep or control their emotions, students will look at the child differently, depending on the discipline they are studying.
"The occupational therapy students were excited about how the child processes the sensory environment, while the social work students asked what is happening in the child's relationships, and the medical students were interested in the biology," Ray said. Faculty members address the issues from the perspective of their own disciplines and also benefit from the multidisciplinary perspectives brought to the course by their colleagues.
"It's a chance to engage in a stimulating intellectual conversation and to view child and family systems from many perspectives," said Easterbrooks. "Students also benefit from seeing the ways in which their instructors engage others with different disciplinary backgrounds."
"The students expand their view and learn how they can support what is going on for the child and the family and the environment in which they live," said Ray. She said that students often comment on how important it has been for them to hear how professionals from different disciplines approach cases as well as hear the terminology used by different professions.
The course will be offered again in the spring 2003 semester.