Journal Archive > 2002 > May

Tufts Tomorrow

Dr. Diana Bianchi is named the first Zucker Professor
by Bruce Morgan

First off, the balmy April day got a nod from medical school Dean John T. Harrington. "Spring has finally come to Boston," he said right at the opening, " and, even better, Natalie Zucker has come to Boston."

The occasion, held April 10 in DeBlois Auditorium at the School of Medicine, marked the inaugural awarding of the Natalie V. Zucker Professorship to Dr. Diana W. Bianchi, chief of the Division of Genetics in the Department of Pediatrics at Tufts-New England Medical Center and professor of pediatrics and obstetrics and gynecology at the medical school. From start to finish, this was a ceremony that felt like a happy convergence of things.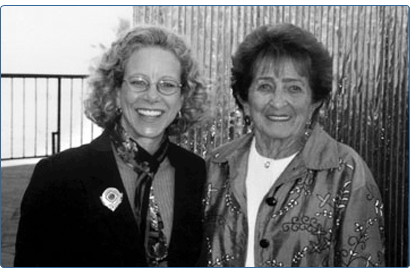 Natalie Zucker, a practicing psychologist for more than 50 years, and her late husband, Milton O. Zucker, M30, have been stalwart supporters of the medical school, with a special emphasis on encouraging and recognizing women in medicine. Among their many generous contributions, the Zuckers established the Milton O. and Natalie V. Zucker Women's Research Prize Fund in 1993. (Bianchi was a recipient of this prize in 1996.) In 1999, Natalie Zucker established the Natalie V. Zucker Research Center for Women Scholars to promote opportunities for women in research, enhance their professional stature and encourage collegial cooperation.
Encouraging women scientists
The creation of the Natalie V. Zucker Professorship is the latest in a long line of thoughtfully targeted gifts. "My intention is to give financial encouragement and emotional encouragement, too," Zucker has said. "I want to give these young women scientists the idea that someone really cares that they do well."
A leading expert on fetal and neonatal genetics, Bianchi has lectured and presented at forums around the world and has been highly recognized for her research. Her research focuses on the bi-directional trafficking of cells and DNA between a pregnant woman and her fetus. Her clinical interests are in fetal dysmorphology and prenatal diagnosis. Bianchi has authored more than 100 peer-reviewed articles and 23 book chapters. She has also written a textbook, Fetology: Diagnosis and Management of the Fetal Patient, published in 2000 by McGraw-Hill.
In her inaugural lecture as the Zucker Professor, titled "Fetomaternal Trafficking of Cells and DNA: The Path Is More Interesting Than the Destination," Bianchi described the breadth of her recent work in a field that scarcely existed at the time of her medical school graduation in 1980. Her talk, while technical at times, was also thrilling in its abiding sense of currency and implication. Bianchi explained that the initial goal of her research had been to develop a non-invasive blood test to detect chromosome abnormalities in fetuses. "The destination has not been reached yet," she reported, "but we have chosen not to be disappointed."
Medical explorations
Bianchi's first explorations led her to examine fetal cells in maternal blood as a means of prenatal diagnosis, but these cells turn out to be very rare and hard to isolate. A subsequent approach, spurred by scientists conducting similar research in Hong Kong, led Bianchi to turn her attentions to fetal DNA in maternal plasma. The levels of this DNA, which can be used for certain kinds of prenatal diagnosis in clinical applications, increase as a pregnancy advances, beginning to be detectable as early as five to seven weeks' gestation and reaching mean concentrations as high as 6.2 percent in late pregnancy.
A chance discovery in 1995 pointed Bianchi's research team in still another direction. They accidentally detected long-term persistence of particular fetal stem cells in maternal blood postpartum, which prompted the question of whether or not long-term persistence of cells could be associated with diseases that are common to women.
This, in turn, spawned the evolution of a new scientific field called "microchimerism," which refers to the presence of cells derived from more than one individual in a single person. Bianchi pointed out that following pregnancy, all women become chimeras, retaining fetal cells even if their pregnancies never reached full term. The presence of these fetal cells has been detected, sometimes in high concentrations in affected tissues, in mothers with such diseases as lupus and ovarian cancer. As Bianchi noted, "This doesn't mean fetal cells are causing the diseases, but they are linked."
The role of fetal cells has evolved rapidly from the idea of these cells as "innocent bystanders" in women's bodies, to a recognition that the cells are associated with autoimmune diseases in their host, to the realization that no evidence exists to say that they cause any disease, to the belief that the stem cells among them may even carry therapeutic potential for the mom. "Could this be why women live longer than men," Bianchi wondered, "simply because they have these stem cells from the child that are more youthful?" Research continues.