Journal Archive > 2002 > May

Pantheon of deans

Fletcher unveils portrait of former Dean Jack Galvin
by Ben Ball and Terry Ann Knopf

Jack Galvin, dean of the Fletcher School of Law and Diplomacy from 1987 to 1992, was honored on April 22 during a ceremony at which his portrait was unveiled.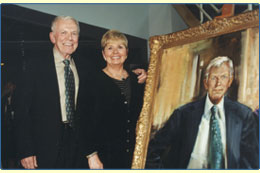 Former Fletcher dean Jack Galvin and his wife, Ginny, with his portrait, which now hangs in the Fletcher school's Ginn Library.
Taking his place among the pantheon of deans whose portraits hang in the school's Ginn Library, Galvin appeared delighted with the results. "It's vibrant," he said, lifting a black veil to applause from an audience of 150 students, faculty, staff, members of the Board of Overseers and friends from his hometown of Wakefield, Mass. "I remember that the old tradition was to have a stern figure to place in the library and calm the place down."
Galvin's portrait was painted by Connecticut artist Coni Belleau Adams, whose impressionist style caught Galvin's eye. The painting depicts Galvin seated, but portrays him as a man of action. "I didn't sit for it very long—two sessions of a half hour each. They took pictures and then showed it to me when it was a few hours from completion," Galvin said.
Before the unveiling, Dean Stephen Bosworth, Galvin's successor, praised Galvin's contributions to the school. "It is one of the hallmarks of this institution that it attracts true leaders, world leaders like Jack Galvin," Bosworth said. Galvin served as Supreme Allied Commander in Europe from 1987 until he was appointed Fletcher dean in 1992.
Galvin's five-year tenure was marked by a series of important initiatives, including the establishment of a joint master's degree in humanitarian assistance between Fletcher and the Gerald J. and Dorothy R. Friedman School of Nutrition Science and Policy at Tufts. Galvin also oversaw the strengthening of the program in international business, the development of an ambitious distance learning program, the implementation of a new technology strategy and the restructuring of Ginn Library. Five new professors in cutting-edge areas such as environmentalism, UN peacekeeping operations and humanitarian studies also were hired.
Peter Ackerman, chairman of Fletcher's Board of Overseers, said that Galvin "was determined to make Fletcher a better place. He restructured the school for a post-Cold War environment. He put a new stamp on Fletcher and was up for any idea that was different, that would make Fletcher fly." Ackerman also announced that $1.7 million has been raised toward creating an institute of human security that will bear Galvin's name.
After he left Fletcher, Galvin and his wife, Virginia, moved to the Atlanta area, where three of their children live. Now writing his memoirs, he told the audience that he often becomes nostalgic for the Fletcher School. "I miss the school very much," he said. "The students, the whole vivaciousness of the business, that's what I miss."
Before the unveiling of the portrait, the audience was treated to a short concert by the Ambassachords, Fletcher's a cappella group, which performed songs that reflect the school's diversity.