Journal Archive > 2002 > March

Hungarian patriot

Tufts awards honorary degree to Hungarian prime minister
by Terry Ann Knopf

One hundred and sixty years after Lagos Kossuth, the famed Hungarian freedom fighter, delivered a fiery speech at historic Faneuil Hall, another young Hungarian leader came to Massachusetts to be honored by Tufts University as one of the bright lights in a new generation of European democratic leaders.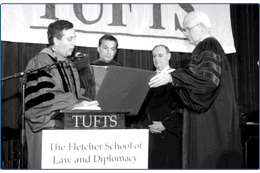 Tufts President Lawrence S. Bacow, far left, and Fletcher Dean Stephen W. Bosworth, far right, present an honorary doctor of laws degree to Hungarian Prime Minister Viktor Orban, second from left, as Senior Vice President and Provost Sol Gittleman looks on.

© Ed Malitsky
Viktor Orban, the 38-year-old prime minister of Hungary, came to the Fletcher School of Law and Diplomacy on February 11, when Tufts awarded him an honorary doctor of laws degree. Tufts President Lawrence S. Bacow called Orban a "Hungarian patriot and nationalist" and recounted his days as an impassioned young student who bravely spoke out against Soviet domination.
Orban's appearance at the Fletcher School comes at a time of dynamic change and uncertainty in Europe. Young democracies, such as Hungary, are booming financially. Former foes, Russia and the United States, are reinventing their relationship. And with the creation of the single international market and the introduction of the Euro as a single currency, the integration process has reached its highest level so far.
Bacow read aloud from the honorary degree citation, which states in part: "In your mid-20s, as a law student, you delivered a dramatic and courageous speech in Budapest's Heroes Square and called for the immediate withdrawal of foreign troops from Hungary, the removal from power of a failed system and free elections to determine Hungary's future."
Bacow also read a special message from former President George Bush: "Barbara and I still talk about our wonderful trip to Budapest and your very special hospitality. I remain filled with gratitude and humility for the kind words you said about my humble contribution to Hungary's well-deserved freedom and democracy."
In a speech to an audience of 150 Fletcher students and other members of the Tufts community, Orban touched upon a new strategic framework for trans-Atlantic relations; NATO's plans to reorganize its priorities in confronting terrorism; European Union policies in crucial areas such as foreign security and defense and the case for enlarging the European Union in facing the challenges of globalization. (Hungary is a member of NATO and is considered a front-runner for admission to the European Union.)
The prime minister spoke movingly of Hungary as a fledgling democracy. "Just a little more than 10 years ago, young people like myself were faced with a tough choice upon entering adulthood," he said. "It was a choice between submitting themselves to the system of totalitarian dictatorship or emigrating to the free world. It was a choice between their home and their freedom, between their families and freedom."
Orban also talked about the traumatic aftershocks on European nations in the wake of the attacks of September 11 and the need for a strong stand against terrorism. "Clearly this attack reminds us that we cannot dismantle borders and allow the unlimited global movement of people, assets or information without regard to our security," he said. "If we are not prepared to use force to defend western civilization and values, then we must be prepared to accept barbarism. The attacks ended the illusion that in possession of economic and military superiority, there will be no further need for national or personal sacrifice."
While noting that some analysts have begun to question the relevance of NATO in this new era of global terrorism, Orban reaffirmed the importance of NATO. "Some say that a new era has started. Perhaps. But our values are the same, and so are the human desires that are deeply ingrained in our souls. Behind the smoke and debris of 9/11, we can still say that the ruins did not hurt our alliance. Quite the opposite—wide international anti-terrorist cooperation is a most welcome development, but this seems to us more a single-issue cooperation than one based on common values and political practices. NATO is relevant and shall remain relevant."
Although Orban said he welcomed better relations between the West and Russia and closer ties between Russia and NATO, the prime minister stopped well short of advocating that Russia be permitted to join NATO, especially in the area of decision-making. "I am sure you have followed with great interest one of the most exciting debates inside NATO," he said. "The discussion on how to formulate our relations with Russia within NATO was of a conceptual nature. Establishing closer cooperation with Russia is desirable. But the time is not ripe for making quick decisions without profound preparations. Time is not ripe for creating institutions."