Journal Archive > 2002 > March

Department transformers

Faces of history

The Department of History has honored three former faculty members who were instrumental in shaping the direction of the department from the mid-1950s through the mid-1970s.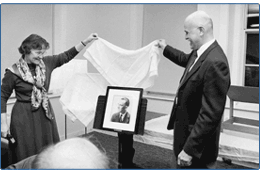 Ann Imlah Schneider and Howard L. Malchow, professor and chairman of history, unveil a photograph of Schneider's father, Albert H. Imlah, who served as chairman of history at Tufts from 1956 to 1965.

© Mark Morelli
Framed photographs of Albert H. Imlah, Freeland K. Abbott and Nancy Lyman Roelker now hang in the department offices in East Hall on the Medford/Somerville campus.
"Taken together, these three persons represent the way in which the department developed since Professor Imlah took the chair [in 1956]," said George J. Marcopoulos, professor of history. "It has been a department that puts great emphasis on superb teaching, but also a department that fosters scholarly work of the highest caliber."
As chairman from 1956 to 1965, Imlah, a distinguished economic historian of England, worked to expand the department's course offerings. For many years, he taught well-regarded introductory and advanced courses in European history. Aside from building up further studies relating to Europe and the Americas, Imlah worked to bring more regional depth to the department by emphasizing courses in Russia, the Soviet Union and the Middle East.
Abbott, who took over the chairmanship from Imlah and served until 1971, saw the need to expand the department from its primary focus on Europe and the United States to include other areas of the world. He taught courses in China, Japan, the Middle East and South Asian history, and he supported additional course offerings in Byzantine and Balkan history as well as the department's first offerings in African American, women's and African histories.
On the invitation of Imlah, Roelker, a teacher at the Winsor School in Boston, became the department's first woman faculty member in 1963 and taught at Tufts until 1973. She quickly rose to the rank of full professor and won national acclaim for her work in early and modern European history. She later joined Boston University as a professor of history. The American Historical Society has established the Nancy Lyman Roelker Mentorship Award "to honor teachers of history who taught, guided and inspired their students in a way that changed their lives."