Journal Archive > 2002 > June

Bright smiles

The demand for cosmetic dentistry is brisk

Breast implants, liposuction, face-lifts, tooth bleaching. Millions of Americans are spending billions of dollars each year to change the way they look—either through cosmetic surgery or restorative and cosmetic dentistry. There are expensive ways to help beautify your looks, and there are not-so-expensive ways. Of them all, restorative dentistry is by far the most economically sound route to make a change in your physical appearance.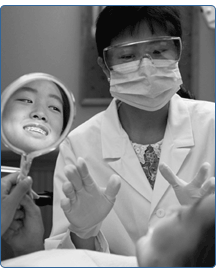 Dr. Gerard Kugel, professor of general dentistry and associate dean for research at the dental school, says that in recent years, technology has progressed so much that dentists can make a living solely by restoring and cosmetically improving their patients' smiles. There are many new opportunities to get a whiter, brighter smile through better restorative and virtually painless techniques, which have the power to reverse the signs of dental aging. According to the American Dental Association, the cosmetic dentistry industry has grown to about $20 billion and is tapped into by men and women, young and old.
There are a number of techniques that can be done to buff up those not-so-pearly whites that vary in expense and complexity of procedure. The most common cosmetic dental procedures are bleaching, bonding, veneers, bridges, crowns and white fillings.
Bleaching is the easiest and most inexpensive way to make teeth look whiter. Bleaching kits are available at the dentist or over the counter and can change the color of teeth significantly. Bleaching a whole mouth at the dentist costs between $400 and $600, while at-home kits cost $40 to $60.
"Bleaching is benign for most patients," Kugel says, "and it is safe and effective."
On a cheaper note, there is an abundance of whitening toothpastes on the market today, but can they truly whiten teeth? Kugel says these toothpastes contain mild abrasives, which aid in polishing the teeth and removing some stains, but they do not alter the color of the tooth enamel like the bleaching kits do.
When looking for a dentist to do any procedure, Kugel suggests patients make sure the dentist is familiar with the procedure and is board-certified. Check out the American Academy of Cosmetic Dentistry for dentists' reputations and the status of their licensure.