Journal Archive > 2002 > February

Jumbo superstar

'Fish' EllisÑan all-time Tufts athletic great

Fred M. Ellis, E29, fondly known as "Fish," served as chairman of the physical education department at Tufts and director of intramural sports for 14 years. He is considered to be one of the college's all-time athletic greats and was the first student to earn varsity letters in four sports.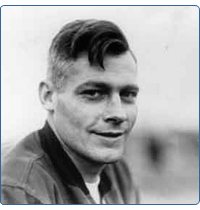 Frederick "Fish" Ellis

Photo courtesy of University Archives
Ellis was born in Norwood, Mass., in 1906. His family moved to the fishing port of Gloucester, Mass., where he earned the nickname "Fish," and then to Medford in 1922. He graduated from Medford High School and entered Tufts in 1925, majoring in civil engineering. Ellis became one of the greatest football players ever to attend Tufts, quarterbacking the undefeated team in 1927 and serving as team captain in 1928. He lettered in football, basketball, baseball and track during his undergraduate career, winning All New England honors in each.
Following his graduation in 1929, Ellis worked as a teacher and athletic director at Bridgton Academy in Maine. He moved on in 1934 to coach and teach math in Beverly, Mass., for six years.
In 1931, he married his college sweetheart, Dorothea Loughlin, J31. She graduated from Jackson College in the morning; they were married in the afternoon, and the newlyweds attended the senior prom that night.
In 1940, Ellis was appointed athletic director, coach and instructor at Dean Academy in Franklin, Mass. A major in the Army Air Corps from March 1943 to June 1946, Ellis served with the Third Air Commando group in New Guinea, the Philippines, the Caroline Islands and Japan. Before entering the military, Ellis had been an assistant coach at Tufts and renewed his involvement with the university as assistant professor of physical education and head coach of the football team in 1946. By 1954, he had become a full professor in physical education and was also coaching the basketball and golf teams in addition to football.
During his 20 years as head football coach, the teams compiled a 57-35-2 record, including nine straight winning seasons. Ellis was honored as New England Coach of the Year in 1959 and as NCAA District I Coach of the Year in 1960. He stopped coaching in 1966 to devote more time to his responsibilities as director of athletics. At Homecoming in 1969, the football field at Tufts was designated the Frederick M. Ellis Oval.
Ellis retired in 1974, and was elected to the Hall of Fame of the National Association of Collegiate Directors of Athletics.
Editor's Note: As the university celebrates its sesquicentennial this year, the Journal will take a look back at some of the history and traditions of Tufts. Thanks to Anne Sauer in University Archives for providing these glimpses into Tufts' past. For information about sesquicentennial events, visit the web site: celebrate150.tufts.edu