Journal Archive > 2002 > February

Yours truly

Pen pals, then classmates

Suzelle Luc, J00, M05, was born in Boston of Haitian parents. Ruona Apoe, M05, grew up a continent away in Nigeria and Ghana. When both young women were in sixth grade, they began to write to each other as pen pals.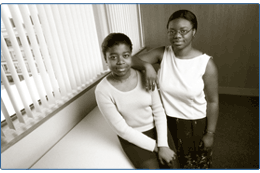 Ruona Apoe, left, and Suzelle Luc

© Mark Morelli
They scribbled letters back and forth across the Atlantic every few weeks all through junior high and high school, detailing the drama of their lives and confiding their dreams for the future. "I always wrote to her, but she didn't respond," Apoe remarks, in a sisterly jibe. "Oh, girl, stop. I wrote you," answers Luc without batting an eye. Then, as each young woman headed off to college—Luc to Tufts University, Apoe to the College of Staten Island in New York City—the two correspondents fell out of touch.
Five years passed. Coincidentally, both Luc and Apoe took a year off after college. Coincidentally, both applied to and joined the Class of 2005 at the School of Medicine, where they bumped into each other during the pre-registration program. "I saw her name on the list and put two and two together," says Apoe of Luc, as though this were the simplest, most natural occurrence in the history of the world.
They used to be pen pals; now they're just pals. And the future? "I'm thinking about internal medicine," Apoe offers, to which Luc promptly retorts, "You don't know what you're doing yet." The two women look at each other and beam, together at last.