Journal Archive > 2002 > February

Eco-students

Students spread the word and turn off the lights

Overheated dorms and classrooms, poorly marked recycling bins, computers that hum all night, lights that don't get shut off. These and other environmental issues are the targets of ECO-Reps, students who volunteer to learn more about the environment and then go back to their dorms and educate their fellow students.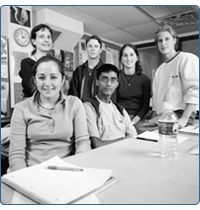 Tufts' Eco-Rep corps, seated from left, Megan DiBiasi, Marmadan Kumarasamy, Daniel Mandell; standing from left, Anja Kollmuss, the outreach coordinator, Matt Cable and Melissa Chan.

© Mark Morelli
In a program run by the Tufts Climate Initiative, 23 students served as ECO-Reps during the fall semester, meeting weekly with Anja Kollmuss, the outreach coordinator for the initiative. The message they learned was clear: Global warming is caused by burning fossil fuels, namely coal, oil, gasoline and natural gas, which then creates carbon dioxide, a gas that traps heat in the atmosphere. Too much of the so-called "greenhouse gases" are resulting in higher global temperatures. Driving a car, using a computer, even eating red meat all contribute to global warming.
The ECO-Reps, who earned a $200 stipend, received a manual on environmental issues put together by Kollmuss with information that included how to respond to questions from other students. At their weekly meetings, they covered different topics such as water use, food production, climate change and recycling and talked about what they might do to educate their peers.
They learned, for example, that it takes 2,500 gallons of water to produce a pound of beef, and that scientists predict that many parts of the United States will experience water shortages in the coming decades. They also discovered some things about Tufts, such as the fact that they can call the facilities department if they are unhappy with the temperature in a building, a problem that turned out to be a common one.
Tufts has long been making efforts to become more environmentally sound and has received national recognition for its efforts. The National Wildlife Federation recently issued "The State of the Campus Environment: A National Report Card on Environmental Performance and Sustainability," a report on 891 colleges and universities. Tufts was named a leading school for its efforts in energy efficiency and conservation.
Some of the changes the students made were simple. Others will take longer to implement. They found, for example, that recycling bins in the dorms were poorly marked, and there were no trash bins alongside them so that students were throwing trash into the wrong bins. The simple idea of adding trash bins and also putting up better signs have resulted in much more material being recycled, said Kollmuss.
Getting students to turn off their computers is another matter. The ECO-Reps learned that if all students at Tufts turned off their computers at night for six hours, it would prevent 572 tons of carbon dioxide from heating the atmosphere each year and save more than $87,000 in electricity costs. But the reps learned that students like to leave their computers on all the time.
"Turning off computers is one things kids won't do," said Katie Mason, a sophomore ECO-Rep from Connecticut. "My roommates leave them on. I turn mine off because I don't use it that much. But most people want to check their e-mail during the day and instant message. Or they don't turn them off at night because they want them on first thing in the morning."
Said ECO-Rep Ted Shevlin, a senior from West Palm Beach, "If you use AOL Instant Messenger, students leave the computer on and put up a message that says, 'OK, I'm sleeping now' and go to bed."
Despite the reluctance to turn off computers, students said, their dorm mates did pay attention to nearly everything else, including information on water and light use and why it makes sense to eat less meat.
"I think everyone cares about the environment, but people choose to ignore things," said Shevlin. "I like to think I'm getting through to people. I've convinced a lot of people to turn the lights off in the bathroom. It's a small triumph. If you keep hammering away at them, you get through."
Shevlin and Daniel Mandell, who live on the same floor in Carmichael Hall, decided one way to educate their dorm mates was by creating what they call an "eco-stall," that is, a men's bathroom stall whose walls are dedicated to ecological information.
"Someone had put all the information about the 'T' on the stall, maps and schedules," explained Mandell, "so we decided to do the same thing for the environment. We made a power point presentation about water use, electricity use and climate change plus a quiz, and then we printed it out and put it on the walls. We're using this as a model to see how it works, and once it's completed, we'll export it to the other dorms."
The Eco-Reps also helped with a program called "Do it In the Dark," organized by Eco Consciousness Outreach, the undergraduates' environmental club. For a period of four weeks, dorms competed against each other to see who could cut down their energy consumption the most.
The Eco-Reps held a light bulb exchange program in which students could turn in their regular light bulbs for compact fluorescent bulbs that cost more but last longer and are three to four times more efficient.
Megan DiBiasi, a junior from Los Angeles who lives in Metcalf, said she and other reps talked to Tufts personnel about what heating and water temperatures they use and when they turn the heat on.
"The dorm was too hot," said DiBiasi. "They were turning on the heat when it was 55 degrees outdoors, and now they turn it on when it's 45 degrees. We also checked insulation and whether windows were shut properly. In general, people were pretty responsive. I have a pretty small dorm, and we do educational programs anyway, so I would go to peoples' rooms and talk about what was going on."
Many of the reps are continuing their work during the spring semester. "I would like to do this program again," said DiBiasi. "If there are 20 kids working in their dorms and spreading information, it's a good way to educate people and bring about change in the school itself."