Tufts Tomorrow, part I
Scholar with national impact named to Gershoff Chair
by Janet Walzer
It was 25 years ago that Alice H. Lichtenstein, then a graduate student at Harvard University, was asked to oversee the nutritional biochemistry course at the Frances Stern Nutrition Center. The course was offered through the center because the nutrition school at Tufts was just a vision then.
Much has happened to nutrition at Tufts and Lichtenstein since 1977. These milestones were recaptured on April 9, when she was named the first recipient of the Stanley N. Gershoff Chair of Nutrition Science and Policy at the Gerald J. and Dorothy R. Friedman School of Nutrition Science and Policy. The endowed professorship, one of 32 created university-wide during the Tufts Tomorrow fund-raising campaign, is named for the school's founding dean.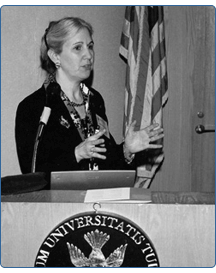 As Dean Irwin H. Rosenberg noted in his remarks, Lichtenstein was a student of Gershoff's, and thus it was a day to "celebrate the achievements of these two and celebrate the nature of giving." Although the giver of this endowed chair requested anonymity, the donor's reasons for providing the gift were made clear in a written statement, read by Tufts President Lawrence S. Bacow at a dinner celebrating the professorship: "...the inspiration behind this chair comes from Stanley's [Gershoff] passion for bridging the gap between nutrition science and policy. The chair is specifically designated for a professor, like Alice [Lichtenstein], who has shown to have a similar passion."
Before there was a building
At the dedication, Bacow expressed his profound gratitude to the donors and highlighted the significance of an endowed chair, explaining that "it is one of the most important investments in a university because it creates the support necessary to attract the best scholars and nurture their work." Bacow added that this particular chair recognizes a "truly important citizen of Tufts University, Stanley Gershoff." The gift for the chair also includes additional funding for the Gershoff Professor to use for related research and scholarship.
Gershoff admitted that he could not express how much pleasure he derived from the endowed professorship, observing that gifts such as these maintain the stability and ensure the future of the school. Then he spoke of the early days of the school ("before there was a building") with his much-renowned singular humor and candor. Continuing on the theme of melding science and policy, Gershoff ended by saying he is looking forward to "our social science people [being] close to our science people in the new building [the Jaharis Family Center for Biomedical and Nutrition Research, which will open this fall on Tufts' Boston campus]."
The chair recipient, Lichtenstein, described Gershoff as "a tough act to follow" and went on to review the founding dean's long and illustrious career in the nutrition field. But Lichtenstein was modest about her own sense of humor, which was evident early on in her talk, as she pointed out that "everyone eats, therefore, everyone thinks they are an expert on nutrition," but in fact the statement should read: "Everyone eats, therefore, everyone is an expert on eating."
Melding science and policy
Lichtenstein, who is a professor of nutrition and director of the Cardiovascular Nutrition Research Program and senior scientist at the Jean Mayer USDA Human Nutrition Research Center on Aging at Tufts, has focused her research in the area of diet and reducing the risk of cardiovascular disease in men and postmenopausal women. She is a national leader in the translation of science into health and nutrition policy. Her expertise in understanding the relationship between diet and the development of cardiovascular disease has been demonstrated in her service on national committees, such as vice chair of the Nutrition Committee of the American Heart Association and a member of the Dietary Guidelines for Americans and the Dietary Reference Intakes committees of the National Academy of Sciences.
It is through these roles that Lichtenstein has had a major influence on health policy, and therefore it was only fitting that she spoke of the relationship between setting policy and scientific evidence. She bluntly answered "no" to the question that served as the title of her talk, "Nutrition Science versus Policy: Can Collisions Be Avoided?" Lichtenstein then provided some insight as to why these collisions occur and how the nutrition field has expanded in the last few years.
Perhaps like never before, nutrition is in the public domain, and this, Lichtenstein believes, gives people the feeling that they truly know something about nutrition. But nutrients are complex matter, she continued, and it is more difficult to determine their impact than medications, which are more straightforward. Medications either work, or they do not work. Lichtenstein then showed the audience numerous advertisements rife with nutritional misinformation, provided examples of government interference with the Food and Drug Administration to the detriment of consumers and cited editorials that "chastised nutrition committees for changing recommendations."
Hard evidence is the goal
All this proves that there is interest, Lichtenstein summarized, but what lawmakers and consumers both must recognize is that nutrition is not static. "Nutrition policies should never be chiseled in stone. Five years later, there will be new committee members and new recommendations." Perhaps most importantly, even in cases of incomplete scientific evidence, nutrition policy should be instituted. "We have a professional and ethical responsibility to establish guidelines in this context," Lichtenstein said, adding that those in policy-making positions must be clear and maintain their objectivity. "There are no opportunities for interpretation, speculation or gut feelings when setting nutrition policy—it must be and only be evidence-based." Or as Lichtenstein humorously put it, "As the philosopher Bertrand Russell said, 'Science is what you know; philosophy is what you don't know.' "
Lichtenstein concluded her remarks by reminding the audience that "the only thing that really washes is hard science." And with that said, Lichtenstein had shown that her expertise not only bridges the gap between nutrition science and policy, but as the donor of the chair pointed out, she is a scientist who feels passionately about serving in that role.