Under construction
A facelift for Goddard Chapel
Goddard Chapel on the Medford/Somerville campus will be closed through October or November while major renovations are done on the 119-year-old Romanesque structure.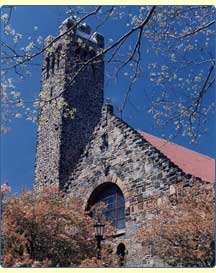 © J.D. Sloan
When the chapel was completed in 1883 at a cost of $35,000, it was considered one of the most picturesque buildings of its kind in the country.
Much of the renovation work on the chapel will be done on the outside of the building, including the reinforcement of the tower and repointing the stonework, said the Rev. Patricia Budd Kepler, interim university chaplain. Interior work will include painting the ceiling to brighten up the space and reinforcing the stained glass windows, she said.
In addition to the significant structural work, Kepler said, the Hook and Hastings organ is being rebuilt, and the area at the front of the chapel will be restored to its original appearance. The large screens in the front of the sanctuary will be taken down. The organ pipes will be exposed, and the original stained glass windows in the area opposite the organ will be replaced.
"Goddard Chapel is such a landmark on campus and so extensively used for Catholic and Protestant services, concerts, weddings and memorial services, that its restoration is a major statement about the commitment of the university and its care for its historic facilities in this 150th year," Kepler said.
Because the completion of the renovations depends heavily on weather conditions throughout the fall, the project could take longer than anticipated. Therefore, the university is not accepting reservations for the use of chapel space until January 2003.
The University Chaplaincy staff, Linda Karpowich and Edith Stead, have moved to Rooms 306 and 307 in Carmichael Hall, where the new university chaplain, the Rev. David O'Leary is located as of July 1. The chaplaincy phone number remains (617) 627-3427.