Journal Archive > 2002 > April

Tufts' first president

Hosea Ballou envisioned an institution of influence

Hosea Ballou 2d was the first president of Tufts College, serving from 1853 until his death in 1861. Born in Guilford, Vt., in 1796, he was a Universalist clergyman, theologian and historian. He presided over the parishes of Roxbury and Medford, Mass., from 1821-1852, published the Ancient History of Universalism in 1829 and received an honorary Doctorate of Divinity from and became an overseer to Harvard University in 1845.

At a Universalist festival at Boston's Faneuil Hall in June 1855, where the new Tufts College was toasted, its first president had this to say: "For if Tufts College is to be a source of illumination, as a beacon standing on a hill, where its light cannot be hidden, its influence will naturally work like all light; it will be diffusive."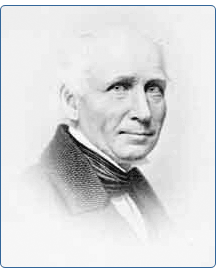 Hosea Ballou 2d
Ballou's inaugural address, given on Aug. 22, 1855, was brief, general and simply stated. He called attention first to the fact that the new college was entering a field already occupied by other institutions, that it was their success that prompted the establishment of another: "It was the manifest good which they have achieved, it was the powerful influences which they have so widely exerted and the satisfaction they have given to all competent judges that moved us to emulate their example, at a humble distance."
He then proceeded to outline Tufts' purpose: "…the College works out abroad from itself, beyond the circle of its graduates, sending its energies forth through all other institutions and down through all the classes, even the most unlettered." The next day, the first formal term at Tufts began with more than 30 students in attendance.
Ballou was Tufts' first professor of history and intellectual philosophy. It would be 30 years after his death before another professor at the college was able to match his scholarly and teaching ability in that field. He established the college's first curriculum, which led to the bachelor of arts degree.
Ballou died in office in 1861. His personal library remains as a legacy to the university to this day, and the main administration building on the Medford/Somerville campus bears his name.
Editor's note: As the university celebrates its sesquicentennial this year, the Journal will take a look back at some of the history and traditions of Tufts. Material for this story was excerpted from Light on the Hill: A History of Tufts College, 1852-1952 and from Tufts' Digital Collections and Archives.