Journal Archive > 2002 > April

Fares Lecture

Clinton calls for more development assistance to thwart terrorism
by Helene Ragovin

The United States needs to increase its share of foreign assistance to help build a world with "more partners and fewer terrorists," former President Bill Clinton told an audience at Tufts on March 13.

Too many Americans, Clinton said, overestimate the amount of federal money devoted to developing nations and underestimate the effectiveness of aid programs. He challenged the university and its graduates to help change public misperceptions.

"Democracy cannot make good policy when the people who vote don't know what the facts are," said Clinton, who came to Tufts to deliver the 2002 Issam M. Fares Lecture, an annual lecture series focusing on public policy and the Middle East.

The lecture series is supported by an endowment from the Fares Foundation and was first conceived by Fares I. Fares, A93, a member of Tufts' International Board of Overseers and the Board of Overseers for Arts & Sciences, who continues to be active on the lecture committee. It is named in honor of Fares' father, Issam M. Fares, the deputy prime minister of Lebanon and a trustee emeritus of the university.

The talk took place at the Gantcher Family Sports and Convocation Center on the Medford/Somerville campus before an audience of approximately 5,000 students, faculty, staff and guests.

'A strategic decision'
Seated with Clinton on the stage were Issam Fares, university President Lawrence S. Bacow and Leila Fawaz, the Issam M. Fares Professor of Lebanese and Eastern Mediterranean Studies and director of the Fares Center for Eastern Mediterranean Studies.

Issam Fares, who was first elected to the Lebanese Parliament in 1996 and was named deputy prime minister in 2000, told the audience that "in the context of globalization of the 21st century, the conflict in the Middle East has direct impact upon the rest of the globe."

"My country, together with all Arab states, has made a strategic decision to seek peace in the region," Fares said. "The time has come to rise to the great challenges facing the region," he said. We must stop the violence between Palestinians and Israelis."

Peace in the Middle East, Fares said, depends upon:
All parties complying with U.N. Resolutions 242, 338 and 425, which call for withdrawal from occupied territories;

Rise of an independent and viable Palestinian state;

Agreement on elimination of weapons of mass destruction in all nations of the region;

Agreement in the region on an economic order that will favor development, prosperity and the rise of democratic institutions and

Agreement on a new vision for the region so that each state feels secure into the long-term future.
'More partners, fewer terrorists'
Clinton began his talk by addressing the importance of a "global consciousness." He praised Tufts' long history of international awareness. For example, when the Fletcher School of Law and Diplomacy was founded in 1933, Clinton said, most of the world, including the United States, was floundering in the "aftermath of the draconian peace of Versailles" and had turned to isolationism.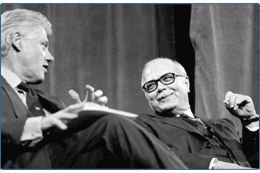 Clinton shares a moment with Issam M. Fares, deputy prime minister of Lebanon and university trustee emeritus, for whom the annual Tufts lecture focusing on the Middle East is named.

© Mark Morelli
"While the world was looking inward, with America leading the way, Tufts was looking outward," he said. That tradition, he added, has prepared Tufts graduates well for assuming places of responsibility throughout the world.
In the aftermath of September 11, Clinton said, America's mission should be to "win more fights against terrorism, and build a world with more partners, fewer terrorists."
"I support the President [George Bush] and our allies in the current campaign in Afghanistan," Clinton said. The United States needs to continue in its current course until the leadership of Al Qaeda is destroyed, he said.
"I believe we will succeed at that," he said.
But, he said, the strategy against terrorism needs to go beyond "prevent and punish. That would be nothing but a world with fewer problems," he said. At the end of World War II, the United States took a completely different course than it had after World War I. Instead of retaliating against its former enemies, the United States helped re-build them and its allies through the Marshall Plan.
"We used the money to create a world of more friends and fewer enemies," Clinton said. The same idea, he said, applies today.
The truth about foreign assistance
Most Americans, Clinton said, "believe we spend far more than we do on foreign assistance." And, "they believe it's wasted." Both perceptions, he added, "are factually wrong."
While most Americans believe about 10 to 15 percent of the federal budget goes to foreign assistance, the real number stands at about 1 percent, he said. Of the 22 most developed countries in the world, the United States comes in "dead last" for the percentage of its budget spent on foreign aid.
Development assistance works, Clinton said, citing programs in which increased funds led to the establishment of educational or health-care programs in countries such as Honduras and Uganda. Providing money so that children in Pakistan, for example, could attend schools other than Madrasahs, where they are indoctrinated in ideologies of hatred and extremism, would be a significant step.
"Don't let anybody tell you we don't know how to do this," Clinton said. "It works, and it's a lot cheaper than going to war."
Nine out of 10 Americans believe we're hated by people in developing nations because of our power, Clinton said. In contrast, citizens of those nations say they resent the United States because it does too little to help poor people around the world.
Many in Muslim countries believe the United States is hostile to the values of Islam, and that the United States could have imposed a peace settlement on Israel, Clinton said. "They have no idea" that there are millions of Muslims who have the freedom to follow their faith in America, or that the United States helped fight Slobodan Milosevic, who is responsible for killing more Muslims than anyone in recent history, or that U.S. troops went to Somalia in 1993 following the deaths of 22 Pakistani Muslim peacekeepers, he said.
"If people in the Middle East and Muslim countries don't know the truth, we're in big trouble," he said. "People at home and abroad are totally wrong about the objective facts that should be shaping our future.
"This is a great university," he said. "You should fix that."
Points for peace
Helping to resolve the crisis between the Israelis and the Palestinians remains among America's top priorities, Clinton said. He outlined several points that are essential, from both the U.S. and Mideast standpoint, toward achieving a peaceful solution:
There is no military solution to the conflict. "Israel isn't going away, and the Palestinians aren't either," he said.

Israel needs to know its military cannot stop suicide bombers or protect all its people. And the Palestinians should learn that suicide bombers aren't gaining territory and are shifting world opinion away from the Palestinian cause.

Leaders in the region have to prepare their people for the necessity of compromise. They cannot employ uncompromising rhetoric to stir up public sentiment and then "turn on a dime and make a deal."

People on both sides want a political solution, but "the violence is confusing them."

Israel and the Palestinians cannot break out of this mess alone. Involvement is needed from the United States, the European Union and Russia. "We don't have to succeed, but we have to try," he said.
"The imperative is to build an alliance against terror," he said. "We need peace in the Middle East as soon as possible."
'Moment of greatest promise'
Clinton ended his address on an optimistic note, saying he believed the Palestinians and the Israelis were closer to an agreement than "all the bloodshed and rhetoric" would lead most to believe.
"I am convinced it can happen," he said. And, "the United States should guarantee that whatever agreement they reach, we will be peacekeepers," as in 1978, when Israel and Egypt made peace.
"We are at the moment of greatest promise in human history, clouded by the greatest threat in human history," he said. "We need the courage of our convictions."