Journal Archive > 2002 > April

Endowed professorship

Hollister named to DiBiaggio Chair in Public Service
by Robert Lindquist

President Emeritus John DiBiaggio was formally honored on February 7 for his decade of leadership and contributions to Tufts University with the dedication of the John DiBiaggio Chair in Citizenship and Public Service.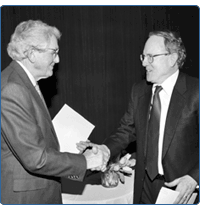 President Emeritus John DiBiaggio, left, congratulates Rob Hollister as the first recipient of the John DiBiaggio Chair in Citizen and Public Service.

© J.D. Sloan
Students, faculty, trustees, overseers, alumni, friends and family filled ASEAN Auditorium on the Medford/Somerville campus to honor DiBiaggio and the chair's first holder, Robert M. Hollister, dean of the University College of Citizenship and Public Service and the Lincoln Filene Professor in the department of urban and environmental policy and planning.
The DiBiaggio Chair was created and endowed by the Board of Trustees to recognize DiBiaggio's vision of Tufts, where teaching, scholarship and active citizenship are integrated to define what makes a Tufts education distinctive. It is a somewhat unusual chair, as Tufts President Lawrence S. Bacow pointed out in his introductory remarks, because it is one of few named after a living individual.
"John has made numerous contributions to the university, which we see all around us—new buildings and classrooms, a growing endowment and a commitment to public service and citizenship," Bacow said. "He has helped us to redefine what it means to educate the next generation of leaders in our society.
"Perhaps his greatest contribution, however, has been the creation of the University College of Citizenship and Public Service. It defines a new role model for how universities like ours and others go about inculcating a sense of responsibility to become active, engaged citizens," Bacow said.
In introducing Hollister, DiBiaggio said, "Rob's personal and professional activities embody the mission of the college. He is an outstanding role model for our students and the greater Tufts community."
A leader in the national movement to elevate the public service mission of higher education, Hollister has directed several Boston-area community change initiatives. He has guided new cross-sector collaborations on challenges ranging from environmental justice to AIDS care, from child care to youth service. He led the development at Tufts of one of the first university programs in the country on nonprofit education, research and community service.
Hollister's inaugural lecture as the chair holder, "Lives of Active Citizenship," focused on five alumni and how their lives, actions and examples challenge the traditional paradigm and demonstrate the new concept of active citizenship.
Hollister described the true model of active citizenship as fully integrated into people's lives as a lifelong process. In the new paradigm, citizenship is about collective, joint activity, and involves pursuing community work through all sectors—business, nonprofit and government.
"Participation is not an end in itself," he said. "It should be entrepreneurial, results-oriented and focused on changing the status quo by taking initiatives and risk."