Journal Archive > 2002 > April

Global outreach

Alumna reaches out to those in need in Peru

Since November 2000, Tufts alumna Kali Erickson, who received her M.S. in nutrition and her M.P.H. from Tufts in 2002, has been the project director for Esperanza Peru's USAID-funded Child Survival Project in Apurímac in the high Andes of Peru.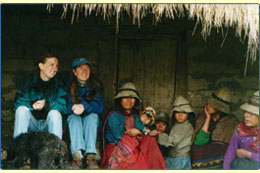 Gwenola Desplats, a nutrition Ph.D. student in food policy and applied nutrition, visits with alumna Kali Erickson and villagers in Umahuille, Peru.
The project team is composed of Peruvian nurses and nurse-midwives, all of whom are Quechua-Spanish speakers. The team works with the Ministry of Health, community health promoters and families in 130 remote, Quechua-speaking communities on four primary areas of intervention—maternal health, nutrition, controlling diarrheal disease and controlling acute respiratory infections.
Within those areas, the program concentrates on community level health education, training of health promoters and traditional birth attendants, creation of health education materials for non-literate audiences, design of health education campaigns and community mobilization to confront health problems.