Journal Archive > 2001 > September


New 'digs' for psychology

The university's new psychology building is no longer "under wraps." With construction completed ahead of schedule, the psychology department moved into its new headquarters on August 10.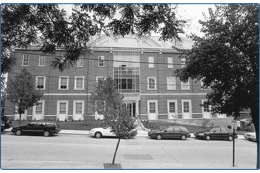 For the first time in 15 years, the psychology department is under one roof in its new quarters at 490 Boston Ave. on the Medford/Somerville campus.

© Mark Morelli
The building at 490 Boston Ave. was shrouded in construction wrapping for much of the spring semester. That came down to reveal a brick-and-stone structure with enough office space for the entire psychology faculty. Including staff, graduate students and post-docs, close to 50 people moved into the new building. It's a far cry from its predecessor, which was erected in 1893 as a "temporary" facility.
"There's no comparison at all. It's like night and day," said Phillip Holcomb, associate professor of psychology, who was the department's liaison to the building project. The older building had been modified numerous times over the years; its heating and cooling systems were a "nightmare." And, Holcomb said, the atmosphere made for "non-optimal" working conditions.
"With the new building, it will certainly help morale," he said.
The new construction also marks the first time in at least 15 years that the entire psychology department has had office space together. "It will help bind us together as a department," Holcomb said.
At present, the top three floors of the building are occupied. The basement has not been finished, although it could be converted into office or laboratory space in the future, Holcomb said. Some of the psychology labs are located in the new building, but the department's animal research facilities will remain at Bacon Hall, he said.
The contractors, Shawmut Construction, finished the project a week ahead of schedule, Holcomb said. "From the time they tore down the old building, it took less than a year. It was quite remarkable."