Journal Archive > 2001 > October

Middle East peace

Three faiths, three voices, one hope for peace
by Helene Ragovin

Three women of different faiths who share a common dream—peace between Israelis and Palestinians—brought their message to Tufts, offering a look at life in a place that has long known violence and war.

Titled "Jerusalem Women Speak," the September 28 program featured Rawan Damen, a Palestinian Muslim who recently graduated from Birzeit University in the West Bank and who, at age 22, has already co-authored three books; Michal Shohat, a Jew who is secretary general of the Israeli Meretz Party and the daughter of Holocaust survivors; and Jean Zaru, a Palestinian Quaker who is vice president of Sabeel, an ecumenical organization that promotes awareness of Palestinian Christians and works for peace.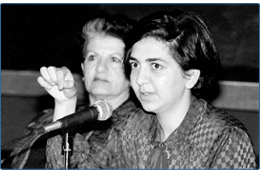 © Mark Morelli
The three were on the last stop of a 17-day tour arranged by Partners for Peace, a nonprofit organization based in Washington, D.C. The women did not know each other before their U.S. tour, according to Jerri Bird, a representative for the group.
All three women spoke of lives touched by violence on a daily basis. During the intifada of the past year, approximately 160 Israelis and more than 600 Palestinians have been killed, Bird said. If you translate that number proportionately to the population of the United States, it would be comparable to 9,000 Israelis and 56,000 Palestinians, she said, with more than 1 million wounded.
Damen, who lives in Ramallah about 10 miles north of Jerusalem on the West Bank, spoke about the debilitating effect the Israeli crackdown in the occupied territories has had on everyday Palestinian life. Her trip to her university, for example, normally 15 minutes by car, now takes two hours of riding and walking through Israeli checkpoints and blockades that have carved the occupied area into scores of disconnected areas. The nights are filled with the sound of American-made F-16s and Apache helicopters piloted by Israelis overhead; bombings, civilian deaths and fear are commonplace.
"What are we to call this bombing of civilians by military forces?" she asked.
"I believe we need to work on two tracks," Damen said. "Solving the immediate daily agonies" that threaten Palestinian existence and "solving the roots of the problem, the occupation." International support will be needed, she said. And, she concluded, "I believe the Israelis and Palestinians have but one option—as the U.N. envisioned, two independent states, side by side."
Shohat, whose party is not part of the Sharon government coalition, has lived through five wars; she is now a board member of Am Hoshi (Free Nation), an organization working for pluralism in Israel.
While Israelis live "good lives," Shohat said, "it is not as easy as it seems to be. We have lived with the threat of terror every day for the last 53 years. The last year has been the most difficult since I was born.
"There has been a lot of violence. We had three suicide bombers in one day. We have lost a lot of people," she said.
For Israelis to live without this violence, Shohat said, means "it's time for us to come back to negotiations with the Palestinians and make peace as we have with Egypt and with Jordan."
"It is a land problem—not a religious problem," Shohat said. "There is a piece of land between the Jordan River and the Mediterranean, which both [the Israelis and Palestinians] claim to be theirs. We are two nations, Jewish and Palestinian, and we both must share this small land between the two nations, otherwise there will not be peace."
And, she said, "the Palestinians [must] understand that for this peace, they have to do 100 percent efforts to prevent terrorist attacks."
Zaru addressed the situation of Palestinian Christians, explaining that the roots of the Christian community in Ramallah are deep, going back generations. "We are different faiths, but part of one nation, one body" she said of the Christians and Muslims in Palestine. "Just like my jacket with its Palestinian embroidery, we are interwoven, a part of the whole. We cannot be removed."
Zaru said the Israeli occupation has, with the establishment of Israeli settlements, turned into colonization, in violation of international accords. The Israelis also have damaged the environment and deprived the Palestinians of natural resources, such as drinking water, she said.
While television around the world shows the "direct violence" that occurs, the current system in the occupied territories is also one of "structural violence" against the Palestinians, she said. Any solution for peace, Zaru said, must "be based on human rights" and recognize the Palestinians' right to self-determination.
"We need to work hard to find non-violent ways to work for peace," she said.