Journal Archive > 2001 > October

Rite of passage

White Coat under a cloud

At this year's medical school White Coat Ceremony, shadowed and framed by the deadly terrorist attacks in New York City and Washington, D.C., just four days earlier, Dr. Roseanna Means, M81, called on 168 first-year students to hold fast to idealism and heed the better angels of their nature in delivering quality medical care to their patients in the years ahead.

The annual event, which occurred at the Tremont Boston Hotel on September 15, traditionally marks the transition from student to practitioner-in-training.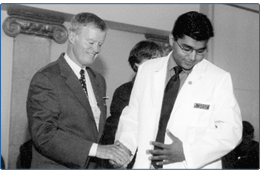 Dean John T. Harrington presents Nitin Bhatia, M05, with his white coat.

© Ed Malitsky
"Today's ceremony marks the beginning of a new journey for each of you," said Means, who has devoted herself to treating Boston's homeless population since 1990. "Some of you will be academic leaders or clinical starsÉSome of you will choose the path of research or even management, and many will stay in the trenches and just do the workÉ[But] with or without the white coat, through the healing power of your own humanity, you can bring your heart into people's lives."
Many parents and family members were unable to attend this year's ceremony because of curtailed U.S. air travel. Some sent flowers in their place. Parents who could make the trip "adopted" their son or daughter's classmates for the day, according to Janet Kerle, assistant dean of students. As a special consideration, the ceremony was videotaped for the first time for later distribution to all the families.