Journal Archive > 2001 > October

Unearthing history

A new wing, a bit of history

An addition to the building that houses the Eliot-Pearson Department of Child Development has not only created new space but added a bit of history to the program.

Last spring, when workers began digging the foundation for a new wing, the first bucket of soil they unearthed revealed a metal canister. When the workers carefully opened the container, they discovered it had been placed in the ground in 1984 by students at the Eliot-Pearson Children's School, which is located in one section of the building. Inside were Lego building bricks, felt markers, blocks and other toys that were used in classrooms some 17 years ago.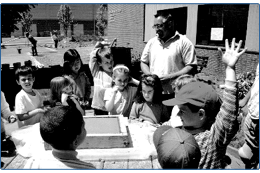 Current students at the Eliot-Pearson Children's School and David Loughran, project supervisor for the new addition to the department, ready a new time capsule that will be unearthed in 20 years.
Deborah LeeKeenan, director of the school, said construction workers and children alike were excited by the find. David Loughran, project supervisor for Payton Construction, which did the work, presented the contents of the time capsule to the current Eliot-Pearson students.
"The children asked a lot of questions and then wanted to do their own time capsule," she said. "We talked about what a time capsule is, what artifacts you might want to put in it and what the children might be doing in 20 years."
Children were thrilled to discover that 17-year-old felt markers still worked because, as they noted, "The other children left the caps on."
Because the old capsule had leaked and some of the artifacts had been damaged, Loughran recommended using PVC pipe for the new capsule. The children wrote a letter for the new time capsule and added photographs and newer Legos and other toys used in their classroom. Loughran made a concrete marker, which says the capsule is to be dug up on June 1, 2021, and buried it in the Manning Courtyard.
The new wing contains seven faculty offices and a conference room.
Ann Easterbrooks, associate professor and chair of the department, said the new addition means that all Eliot-Pearson faculty are now housed in one location. "We can more easily benefit from the 'hallway' or 'coffee pot' conversations that lead to big ideas," she said. "We are very grateful for the support of the administration, particularly Dean Susan Ernst and Wayne Bouchard, for making this possible. It is more than an expansion of our physical space. It represents a uniting of our community."