Journal Archive > 2001 > November

Campus chimes

For whom the bells toll

The bells in Goddard Chapel were given over a period of time beginning in 1908. Currently, there is a carillon of 25 bells that is rung daily at 5 p.m.

The first bell, an "A" Victory bell, was given by the Class of 1898 to mark its tenth reunion in 1908. This bell was used to announce football victories and other Tufts events, in addition to ringing the hour. In 1926, nine more bells were given by Eugene A. Bowen, an 1876 Tufts graduate who worked his way through college as the campus bell-ringer. These bells are known as the Bowen Chimes in his honor. The final 15 bells were given in 1964 in honor of John P. Tilton, a former provost and senior vice president, who died in 1959.

Previous to the acquisition of the "A" bell in 1908, a lesser bell in the chapel tower was used to summon students to class and chapel services. Before Goddard Chapel was built, the campus bell was located on the roof of Ballou Hall. The tolling duties were performed by a student employed as bell-ringerÑa sought-after position that paid $40 a year and was one of few on-campus employment opportunities at the time.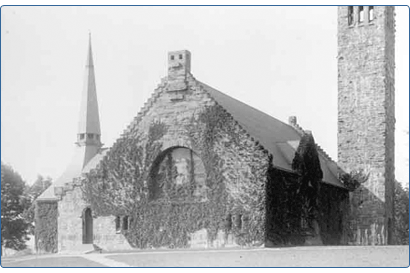 Goddard Chapel, 1892

Photo courtesy of University Archives
EditorÕs Note: As the university celebrates its sesquicentennial in 2001-2002, the Journal will take a look back at some of the history and traditions of Tufts. Thanks to Anne Sauer in University Archives for providing these glimpses into TuftsÕ past.