Journal Archive > 2001 > November

Revival on Ice

Its demons banished, Tufts hockey begins
2001 season in a new league and a new rink
by Paul Sweeney

Starting this month, the best is yet to come for the Tufts University hockey program. On November 16, the Jumbos begin play in the NESCAC/ECAC East League, widely considered the most competitive Division III conference in the country. Tufts also will practice and play in the brand new Malden Forum, the team's first permanent home rink.

Considering the problems the program has weathered during its history, this is like Christmas a month early for the team and Head Coach Brian Murphy, A95.

Murphy was captain of the 1994-95 Tufts team that posted an 0-4-3 record in its first seven games. As if that wasn't bad enough, word then spread that the Athletics Department faced a budget cut and was going to drop the program. With no rink on campus, it was too expensive to rent ice for the team to use for practices and games.

"We couldn't understand it," Murphy said. "For the seniors especially, it was important that the program continued. We wanted there to be a legacy of Tufts hockey."

Ups—and downs
To that point, the team's legacy was its low profile. Hockey already had been dropped once, after the 1960-61 season due to lack of interest. In the 1940s and '50s, Tufts played local powers such as Boston College and Boston University. The 1954-55 team beat BU and won 17 games, but six years later, the team was gone.

"We had no connection with the campus," said Ben Sands, E54, a defenseman at the time.

The team came back as a successful club sport in the 1970s and regained varsity status for the 1986-87 season. Even with that, the sport never really caught on at Tufts like it did at other area colleges. The Jumbos qualified for the playoffs in 1988, 1989 and 1991, but no rink on campus hindered any potential swelling of support.

"I didn't even know when the team was brought back to varsity status," said Sands, who coached the team from 1982-94. "No one told me. I had no idea it was even being considered."

So although the word in 1994 that the team was history came out of the blue, it wasn't a shock. Perhaps more surprising was the uprising that it caused. Petitions were signed, money was raised, and the team started winning. Under the guidance of Head Coach Steve Hoar, the team tied a school record by winning 11 straight games. Among the victories were upset wins over NESCAC opponents Connecticut College, Trinity and Amherst.

"In the first game of the streak against Connecticut College, we were down 3-0 after the first period," said Paul Nemeskal, A97, a sophomore on that team. "Our goalie at the time, Bunk McMahon, A95, who never said a word, just snapped. He screamed at us in the locker room. We came back and won, 6-4."

Community action
The team's success certainly helped the cause, but it was the generosity of many alumni and parents that saved the program. Sands, now president of the Tufts Jumbo Club, led the way. He established the Friends of Tufts Hockey and created an endowment fund to help defray the program's annual operating costs. Mike Leven, father of hockey player Jon Leven, A88, donated $40,000. The Tufts Jumbo Club contributed $20,000. The Tufts administration, impressed by the university community's resolve to save the hockey program, agreed to contribute additional money to help keep the team in business.

"It was an amazing show of support," Nemeskal said. "Most of the guys on the team had been playing hockey since they were four or five years old, so it was important to us. It meant a lot to us how the alumni and parents stepped up and put their money where their mouth is."

The program took another big step in the right direction when Murphy was hired as its first full-time head coach in 1998. Hoar, who twice led Tufts to the ECAC playoffs during his four-year tenure, already had a job and couldn't take the full-time position. Murphy, who had served as his assistant coach for three seasons after graduating, was in the right place at the right time.

"Every coach wants to go back to his alma mater," Murphy said. "For me to have it as my first job is unbelievable. I'm at Tufts because I want to be at Tufts. I'd like to be here 30 years from now."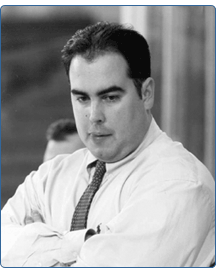 Head Coach Brian Murphy, A95

© John Quackenbos
Home ice
The team's new home at Malden Forum is another positive development. Without a home rink in previous years, finding ice to play and practice on was a headache. Like the Dallas Cowboys were dubbed "America's Team," the Tufts hockey team was literally "Greater Boston's Team" after playing and practicing wherever and whenever they could find ice around the city.
One year, an MDC rink official called Murphy just days before a game and said Tufts couldn't have the ice because of a youth practice. Murphy had to track down a men's recreational league team captain at the firehouse where he worked to negotiate a trade of ice time at another rink so that Tufts could play its game. The Tufts team faced barriers that no other program in the country had to deal with.
"We practiced at 11 at night and at 5 in the morning," Nemeskal said. "One time when we practiced at the Charlestown MDC rink late at night, a player's car was stolen. We practiced on outdoor rinks late at night in the middle of winter. Our level of dedication was strong."
Hopes are still that a rink will be built on campus some day. Many think that with the addition of an on-campus arena, Tufts could be one of the country's premier small college hockey programs. For the time being, having permanent ice in the next town over is a much-improved situation. Murphy can now focus on helping his team compete in a very challenging new league.
Big league
Tufts is moving into the new league after playing in the ECAC Northeast Division. The NESCAC/ECAC East includes Middlebury College and Norwich University, which have combined to win six of the last seven NCAA Division III national championships.
"There are a lot of teams in this league that are as good as Division I teams in terms of talent, facilities, coaching and support," said Murphy, who earned co-Coach of the Year honors after leading Tufts to a 15-1-1 first-place finish in the ECAC Northeast last winter. "It's much more of a skating league with bigger ice surfaces. This will be a transition year for us, but we're hoping to get one of the seven berths into the NESCAC playoffs."
Where once Tufts players feared for the existence of the program, current Jumbos now look forward to a promising future.
"We're excited about the step up in competition and the chance to play in so many nice rinks in front of more people," said co-captain Chris Martin, E03. "We're not expected to win the whole thing this year, but we'll see where we stand. I think Tufts can be a top team in this league in the future. It's a great school in a great hockey area."
Paul Sweeney is Tufts University's sports information director.