Journal Archive > 2001 > November

Undergrad experience

Bacow appoints task force on undergraduate life

President Lawrence Bacow has appointed the leadership of the new Task Force on the Undergraduate Experience, a committee that will look at how the university integrates life inside and outside of the classroom.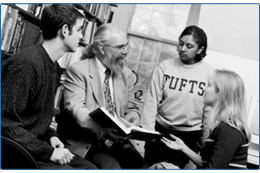 © Kathleen Dooher
"We need to take a fresh look at how we are doing," he told arts, sciences and engineering faculty members at their regular meeting on October 22. "We will start another capital campaign, and we need to look at our goals and visions and offer a sharp articulation of the undergraduate experience."
Gilbert Metcalf, professor of economics, will chair the task force. The co-chairs are Kristine Dillon, dean of academic services and student affairs, and Charles Inouye, dean of the Colleges of Undergraduate Education. Other faculty and students will be named as task force members later.
"One of the great things about Tufts is that we have made enormous progress in the last 15 to 20 years, from being a good regional university to becoming a university of the first rank," Bacow said. "Yet it has been close to 20 to 25 years since we did a self-study of the undergraduate experience."
When students choose a university, he said, they do so based on the entire experience the school offers, not just on the curriculum and how it is conveyed. "There are other opportunities to develop themselves as people on the playing fields and in the performance halls or in studying abroad."
Bacow said the university's accreditation is currently being reviewed by the New England Association of Schools and Colleges, making the internal review even more timely. In addition, he noted that the task force work might build on what was learned during the Higher Education Initiative, a series of workshops, discussions and a symposium held in 1998 that was aimed at helping to direct the future course of arts, sciences and engineering. Bacow said faculty members have asked him why the initiative did not go further, and he has asked the faculty Executive Committee to investigate the program's follow up.
Bacow said the Task Force on the Undergraduate Experience will ask, "Where do we want to be, and what will it take to get there? Other decisions will be informed by this. For example, we're working on building a new dormitory, and we're talking to architects. What is it we want to build? Perhaps we want more of a role for faculty in residential life. Perhaps there would be house master suites or junior faculty living in dorms." Dillon told the faculty that Cornell recently received a $100 million gift to create a residential system.
Bacow said he expects the task force will take between 12 and 18 months to issue its report. He described the work as "an intense activity that will require staff. It ought to be informed by data and by what others have done as well as our own views and what we think the experience at Tufts should be."