Journal Archive > 2001 > November

UN Day

Tufts raises United Nations flag
by Marjorie Howard

Against a backdrop of blue skies and red and gold trees, the United Nations flag was raised for the first time on campus at a ceremony held outside Goddard Chapel on October 24. Alvaro de Soto, undersecretary-general to the UN, spoke to a gathering of about 100 people—including students wearing costumes from their native countries—who watched the flag raising.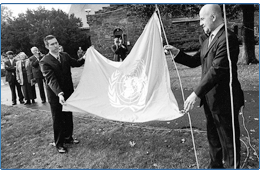 Alvaro de Soto, right, undersecretary-general to the UN, and Fletcher student Robert Kirsch prepare to raise the UN flag on the Medford/Somerville campus.

© Mark Morelli
Alan Henrikson, associate professor of diplomatic history at the Fletcher School of Law and Diplomacy, told the audience that the flag raising was the first part of daylong events to celebrate UN Day, with other activities to be held later in Boston. "We're delighted that UN Day begins here on the Hill," he said. The UN, along with its secretary-general, Kofi Annan, just won the Nobel Prize for Peace.
De Soto, who is the parent of a Tufts student, said, "The face of Tufts epitomizes the face of the United States of America that the world cherishes and appreciates, an America open to the world, engaged and contributing to the community of nations to which it belongs."
He talked about challenges in the post-Cold War environment, namely the internal conflicts that have arisen since the end of the Cold War. "We learned some things about dealing with these conflicts," he said, "namely that we can't walk away when the guns fall silent. Unless we address the causes of conflict, we haven't done our job. We call it post-conflict peace building or nation building. It has been shunned, particularly in this country, but we can't ignore it, unless we want the same problems coming back again and again."
In addition, he said, the world is now faced with "problems without passports, such as terrorism, drugs and pandemics."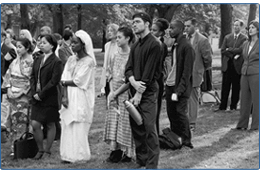 Many who attended UN Day ceremonies wore costumes from their native countries.

© Mark Morelli
Tufts President Lawrence Bacow noted that Tufts students have a broad interest in the rest of the world, pointing out that the largest undergraduate major is international relations. "Our students go abroad to seek better understanding of other cultures," he said.
De Soto was introduced by Ian Johnston, assistant professor of international law at the Fletcher School, who served as assistant to UN Secretary-General Annan before coming to Tufts. Prior to de Soto's speech, Joyce Galantic played music on the carillon at Goddard Chapel, and Tufts students and faculty performed "Fanfare for Trumpets."