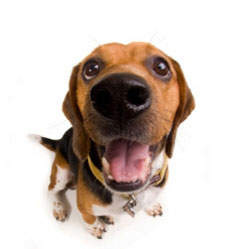 Periodontal disease is one of the most under-diagnosed conditions in dogs. Photo: iStock
Ask The Professor
My pet has awful doggy breath, and I'm worried that there's something wrong with him. What should I do?
This month's expert, Jean Joo, a dentist and oral surgeon at Tufts Veterinary Emergency Treatment & Specialties in Walpole, Mass., an animal hospital affiliated with the Cummings School, responds:
Oral health is an important part of your pet's overall health and well-being. Periodontal disease is one of the most under-diagnosed conditions in dogs. A healthy dog mouth will have a certain odor to it, but it should not be overly foul. If your dog has halitosis, he most likely has some degree of periodontal disease, and it should be treated.
Periodontal disease includes gingivitis, or inflammation of the gums, which is mild and reversible. Gingivitis can progress to periodontitis, which causes gum recession, destruction of the periodontal ligament, which holds the tooth in the socket, and the loss of bone surrounding the tooth socket. If left untreated, the tooth loosens and eventually falls out. Periodontitis is not reversible, but treatment can prevent further tooth loss.
If you are concerned about dental disease, you should have your dog's teeth and mouth checked by your veterinarian. He or she can determine whether your dog needs a dental cleaning or other oral health care.