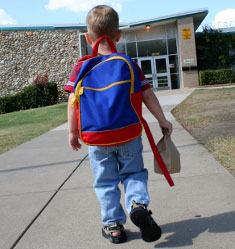 Most children experience some type of back-to-school jitters. Photo: iStock
Ask The Professor
What can I do to help my child prepare for starting a new school this fall?
This month's expert, Debbie LeeKeenan, director of the Eliot-Pearson Children's School, responds:
The first days of school are always filled with mixed emotion—anticipation, excitement, hope, joy, sadness, worry, fear, anger, anxiety, relief. These feelings are typical for children, parents and teachers alike. Starting a new school adds another dimension to the experience and can be stressful for many children. A child's age, temperament, previous school experiences and life changes, such as a move, divorce or new sibling, are all factors that influence how a child may feel about a new school.
Here are some tips for helping children transition to a new school:
Include children in the process. A couple of weeks before school begins, visit the school and familiarize your child with the new space—classroom, bathroom, cafeteria, auditorium. Some schools schedule an open house to meet new children. If your child is taking a school bus, show her where the bus will pick her up and drop her off. Find out if the school will provide a buddy for new students.
Find future friends by visiting local playgrounds, the library, summer camps and classes. If you receive a class list before school begins, you can arrange a couple of play dates in the summer. Young children feel less nervous about starting school if they have some familiar faces to look for.
Involve your child in the specifics: Let your child pick out his backpack, lunch box and school supplies. Let him lay out his clothes for the first day of school. Have him help prepare a tasty lunch.
Try and establish a normal routine at home the first few days of school.
Read children's books about starting school.
Listen to your child's concerns, fears and worries. Answer questions your child may pose about school honestly and give her an understanding of what to expect. Helping her problem solve in advance can alleviate a lot of anxiety. Remind your child about other firsts she has experienced and how well she handled them.
Separate adult feelings from your child's feelings. Your child is not you. Listen and provide reassurance, but try not to heighten anxiety with old memories and good intentions. Try not to let adult concerns and worries become your child's concerns and worries.
Every child is different, and it is normal for a child to react to starting school in his or her own way. The most important tool you can use is to know your own child. Emphasize the positive and be supportive.
Most children experience some type of back-to-school jitters. This should pass over time. If the level and type of anxiety impedes your child's day-to-day life, reach out to the school. Start with your child's teacher, guidance counselor or principal—they can provide valuable tips and resources. Remember, some adjustments take longer than others, but everyone does adjust.
Have a question for "Ask the Professor"? E-mail taylor.mcneil@tufts.edu.