People Notes February 2011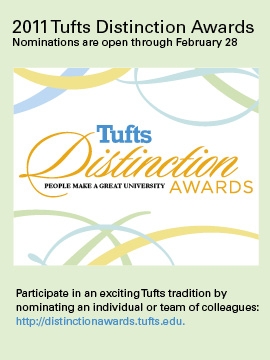 Susanne Belovari, the archivist for reference and collections in Tufts' Digital Collections and Archives, was selected to serve a second four-year term on the University and Research Institution Archives section of the International Council on Archives. Last year she gave presentations at two international conferences: "It Ain't Quite So! The Museum and Archival Paradigms under Close Inspection" at the conference on Memory, Identity and the Archival Paradigm: An Interdisciplinary Approach, hosted by the Centre for Archive and Information Studies at the University of Dundee and the Royal Society of Edinburgh Arts and Humanities and "Digital Preservation—The Planets Way: Can It Work for Smaller Archives?"—also at the University of Dundee in Scotland.
Kelly Benvenuto recently joined Tufts as the administrative coordinator supporting the Office of Web Communications and University Photography. Prior to coming to the university, she was the senior program assistant at the National Democratic Institute for International Affairs in Washington, D.C. She received her B.A. in international studies from Colby College in Waterville, Maine.
Tim Brooks, executive director of alumni relations, has received a Crystal Apple Teaching Award from CASE (Council for Advancement and Support of Education) for outstanding performance evaluations at 10 or more CASE conferences.
Katie Cinnamond recently joined Tufts as the assistant director in the Office of Public Relations on the Medford/Somerville campus. Prior to coming to the university, she worked at a brand and cause marketing agency in Boston and at an emerging growth technology communications firm in San Francisco. She is a cum laude graduate of Lafayette College in Easton, Pa., where she received her B.A. in anthropology/sociology.
Olaf Dammann, director of clinical research in newborn medicine at the Floating Hospital at Tufts Medical Center, is the new editor-in-chief of Pediatric Research, the official publication of the American Pediatric Society, the European Society for Paediatric Research and the Society for Pediatric Research.
Jennifer O'Malley Dillon, J98, has been named a deputy campaign manager for President Barack Obama's reelection campaign. Dillon will leave her current post as executive director of the Democratic National Committee. "As a deputy campaign manager … she will play a critical role in ensuring that President Obama has the opportunity to continue to bring about positive, progressive change during a second term in the White House," DNC chairman Tim Kaine said in a statement.
Kevin P. Gallagher, a senior researcher at the Global Development and Environment Institute, recently gave a lecture at the Harvard Kennedy School of Government to Mexican senators, congresspersons and business executives on China's challenge to Mexico. His work on capital controls was quoted in a Financial Times article titled "Currency Tensions Sap Investor Enthusiasm" on January 13. Gallagher, in conjunction with Sarah Anderson from the Institute for Policy Studies, circulated a letter urging the U.S. government to reconsider the restrictions in U.S. trade and investment agreements on the use of capital controls to prevent and mitigate financial crises. The letter was signed by more than 255 economists and was sent to the U.S. Treasury, the Department of State and the Office of the Trade Representative, as well as the media and key members of Congress.
Gary Goldstein, professor of physics in the School of Arts and Sciences, was honored on his 70th birthday for his contributions to physics with a special conference, Gary-Fest: Transverse Spin Phenomena and Their Impact on QCD. His colleagues organized the workshop-celebration, which was held in late October at the Thomas Jefferson National Accelerator Lab in Newport News, Va. It focused on and highlighted many of Goldstein's theoretical and experimental contributions to science, particularly his work on spin-polarization phenomena in particle physics. Many scientists attended, including friends, collaborators, colleagues and former students. Many who have both influenced and been influenced by his career participated, presented papers and paid tribute to the depth and breadth of his scientific accomplishments, including his role as an educator-mentor.
Joseph Gravel, A82, M86, recently completed a two-year term as president of the Family Medicine Education Consortium. It provides programs and services that promote medical student interest in family medicine, provides family medicine faculty development and enhances academic collaboration between more than 100 family medicine residency programs and departments of family medicine in the Northeast. Gravel is residency program director and chief medical officer of the Greater Lawrence Family Health Center in Lawrence, Mass., the only federally qualified community health center in the United States that sponsors its own residency training program.
Cailin Heinze has been appointed an assistant professor in nutrition at the Cummings School of Veterinary Medicine. Heinze is a 2004 graduate of the University of Pennsylvania School of Veterinary Medicine and completed a three-year residency in nutrition at the University of California, Davis. She recently became certified by the American College of Veterinary Nutrition. Currently, she is investigating omega-3 fatty acid metabolism in psittacine birds, which include parrots, cockatiels and parakeets.
Michael Klein, the William L. Clayton Professor of International Economic Affairs at the Fletcher School, is on leave serving as chief economist in the Office of International Affairs at the U.S. Treasury. He began work in that position June 2010, and will return to the classroom in September 2012.
Leila Bhatti Migliorelli, assistant director of donor relations in University Advancement, was recently named a "Rising Star" by CASE (Council for Advancement and Support of Education). She works closely with the stewardship staff at all of Tufts' schools to ensure that the university provides the best recognition and stewardship options to donors. Migliorelli received her award at the CASE 2011 District I conference January 27–28 in Boston.
Monica White Ndounou, an assistant professor of drama in the School of Arts and Sciences, presented her essay "Acting Your Color in Late 19th- and Early 20th-century American Theatre and Film," an analysis of emerging and evolving African-American actor training and performance, at the Association for Theatre in Higher Education (ATHE) conference in Los Angeles. Ndounou also moderated and presented during a roundtable discussion titled "Meeting at the Crossroads: The Convergence of Media, Pedagogy and Performance."
Zbigniew Nitecki, professor of mathematics in the School of Arts and Sciences, was appointed to a two-year term as associate treasurer of the American Mathematical Society.
Dave Nuscher, director of editorial and creative services in University Advancement, and Mike Sherman, art director in Advancement, won a silver medal in the CASE (Council for Advancement and Support of Education) District I Communications Awards program. They won in the Publication Packages category for their work celebrating the School of Dental Medicine's vertical expansion initiative. Nuscher and other staff from University Advancement were closely involved in the planning and preparation for the CASE 2011 District I conference January 27–28 in Boston. Nuscher was conference co-chair; Courtney Mongell, associate director of Tufts Fund communications and donor retention, chaired the marketing and communications committee, which included Amy Miller, administrative and communications coordinator, as a member. Shane Dunn, alumni relations officer, served on the operations committee.
Ron Pies, clinical professor of psychiatry at Tufts Medical School, has published The Judaic Foundations of Cognitive-Behavioral Therapy (iUniverse). He also recently published Becoming a Mensch: Timeless Talmudic Ethics for Everyone (Hamilton Books, 2011); see the story about that book.
Virginia Rentko, currently director of the Tufts Veterinary Emergency and Treatment Specialties (Tufts VETS), will become medical director of the Foster Hospital for Small Animals and the Hospital for Large Animals at the Cummings School of Veterinary Medicine. In her new role, she will be responsible for all aspects of clinical operations. She also will work with the chair of the Department of Clinical Sciences at the Cummings School to support and promote clinical and translational research in the teaching hospitals.
Steve Rowell, V83, currently director of the Foster Hospital for Small Animals and the Hospital for Large Animals at the Cummings School, will become director of Tufts Veterinary Emergency and Treatment Specialties (Tufts VETS), the specialty and emergency hospital located in Walpole, Mass., beginning March 7. Rowell also leads key academic endeavors, including routinely chairing or serving as a member on the Cummings School's student promotions committee and being a mainstay in delivery of the problem-based learning curriculum.
Diane Souvaine, professor of computer science, spent a week in December traveling to Antarctica and the South Pole as part of a five-member team reviewing the National Science Foundation's ongoing research programs there. Souvaine is a member of the National Science Board, the governing body of the NSF, and current chair of its Committee on Strategy and Budget.
Jennifer Towers, director of dental research affairs at the School of Dental Medicine, recently received a Certificate in Management and Leadership from the MIT Sloan School of Management.
Timothy A. Wise, deputy director of the Global Development and Environment Institute, was in Washington, D.C., in January to present the report, "Subsidizing Inequality: Mexican Corn Policy Since NAFTA," at the Woodrow Wilson International Center for Scholars. Wise also participated in a panel discussion hosted by the Institute for Policy Studies and the Washington Office on Latin America on the report's implications for agricultural, trade and immigration policies.
Posted February 01, 2011