People Notes January 2011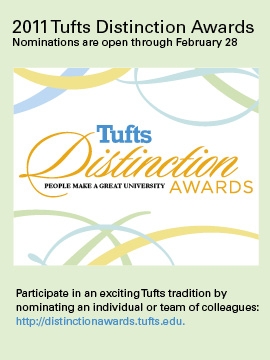 Linda Abriola, dean of the School of Engineering, has been recognized in American Women of Science Since 1900 (ABC-CLIO, 2010), an encyclopedia focused on 500 of the 20th century's most notable U.S. women scientists. American Women of Science Since 1900 examines the pioneering but sometimes overlooked achievements of distinguished women in disciplines from genetics to computers to nutrition.
Frank Ackerman, a senior research fellow at the Global Development and Environment Institute (GDAE) and director of the Stockholm Environment Institute's climate economics group, and GDAE senior researcher Kevin Gallagher published an article in the Guardian, "Cancún and the New Economics of Climate Change."
Robyn Alders, an associate professor of environmental and population health at the Cummings School of Veterinary Medicine, gave a presentation titled "A One-Health Strategy for Building Capacities for Preventing and Responding to Disease Outbreaks" as part of the USAID-sponsored symposium "Investments and Challenges in Developing a Risk-Based Approach for Predicting and Preventing Emerging Pandemic Threats" at the 59th annual meeting of the American Society for Tropical Medicine and Hygiene in November in Atlanta.
Matt Boucher, E11, a doctoral student in chemical engineering, received a travel award from the American Institute of Chemical Engineers (AIChE) Catalysis and Reaction Engineering Division to present his research on catalytic steam reforming of methanol over gold on zinc oxide nanoshapes at the AIChE annual meeting in Salt Lake City in November.
Wai Cheung, a faculty member in periodontology at the School of Dental Medicine, has been promoted to associate professor.
Kevin P. Gallagher, a senior researcher at the Global Development and Environment Institute, published an opinion article in the Financial Times titled "Latin America Must See China as a Trade Threat, as Well as a Partner." It draws on his new book with Fletcher student Roberto Porzecanski, The Dragon in the Room: China and the Future of Latin American Industrialization. Gallagher was also interviewed on November 9 by KPFK radio in Los Angeles about the book and the recently concluded G-20 summit. You can listen to the interview at http://archive.kpfk.org/parchive/mp3/kpfk_101109_170004dbriefing.MP3.
Jonathan Garlick, professor of oral and maxillofacial pathology and head of the Division of Cancer Biology and Tissue Engineering at the School of Dental Medicine, presented the keynote talk on "Stem Cell Research and Dentistry" at the annual reunion at the Stony Brook School of Dental Medicine last fall.
Neva Goodwin, co-director of the Global Development and Environment Institute, gave a talk sponsored by the New Economics Institute in New York City on November 20. View a video of the talk, "What Can We Hope for the World in 2075?".
Gretchen Hayden, a lecturer in the Department of Drama and Dance in the School of Arts and Sciences, was a panelist and performer in October at Traditions Engaged, an international festival of classical Indian dance and music that was held in San Francisco.
Timothy Hempton, an associate clinical professor of periodontology, gave presentations on "Extraction and GBR Techniques for Socket Preservation," "Contemporary Periodontal Management for the Restorative Dentist" and "Crown Lengthening Surgery" at the Indian Society of Periodontology's 35th National Conference in Bangalore in October.
Aidee Herman, an associate clinical professor of periodontology, received the Presidential Award from the Hispanic Dental Association during the organization's annual meeting in Chicago in October. Herman is a former president of the organization. She also received the Award for Latino Excellence in Education from Latin Roots on November 20 in recognition of "her excellent work promoting a better education for Latinos in New England."
John F. Hodgman, a professor of the practice at Tufts Gordon Institute, was elected to the board of directors of the Massachusetts Biotechnology Education Foundation (MassBioEd) in December. Closely affiliated with MassBio, MassBioEd aims to support science and biotech education in Massachusetts through school programs and workforce training. Hodgman also serves on the Massachusetts Governor's STEM Advisory Council.
Justin Hollander, an assistant professor of urban and environmental policy and planning, was an invited critic at the Harvard Graduate School of Design during the fall 2010 semester. He lectured and offered criticism to students enrolled in the course "Brownfields Practicum: Regeneration and Reuse of Brownfield Lands." Hollander's research was also referenced in a recent article in the Las Vegas Sun about how a city can get better as it faces shrinkage.
Alice Lichtenstein, the Stanley N. Gershoff Professor of Nutrition Science and Policy at the Friedman School, has received the 2009–10 Excellence in Dietary Guidance Award from the American Public Health Association. The award recognizes an individual who has made outstanding contributions in the area of dietary guidance formulation, research, education or policy change.
Joseph Litvak, a professor of English in the School of Arts and Sciences, received honorable mention in the Modern Language Association of America's 41st annual James Russell Lowell Prize for his book The Un-Americans: Jews, the Blacklist and Stoolpigeon Culture (Duke University Press). (See the Tufts Journal story, "Stoolpigeons and Patriots.") Litvak is also author of Caught in the Act: Theatricality in the Nineteenth-Century English Novel and Strange Gourmets: Sophistication, Theory and the Novel, for which he won the Perkins Prize for best book on narrative, awarded by the International Society for the Study of Narrative. He is currently working on a sequel to The Un-Americans titled Cold War Jew: Hollywood after the Blacklist.
Rachel Massey, a research fellow at the Global Development and Environment Institute, gave two presentations at a United Nations Environment Programme (UNEP) meeting in Geneva on November 4 and 5. This was the third in a series of meetings that will culminate in the publication of a Global Chemicals Outlook, reviewing trends in the chemicals industry; identifying health and environmental impacts of the growing chemicals industry in developing countries; and analyzing the economic benefits of prompt action to control chemical exposures in the developing world. Massey coordinated the international team that completed the first phase of this project in 2009, and has been invited by UNEP to coordinate a second phase beginning early this year. She is also co-author of an article in the November 1 issue of Environmental Science and Technology titled "Toxic Chemicals in Toys and Children's Products: Limitations of Current Responses and Recommendations for Government and Industry." Since its publication, the article has been summarized in a variety of popular media outlets. Massey was also interviewed recently for a Los Angeles Times article on the same topic.
Rory O'Neill, an associate clinical professor of periodontology, spent the week of October 21–25 at the University of Southern Nevada's College of Dental Medicine as a guest lecturer in the Department of Orthodontics. The main focus of his lectures to orthodontic residents was on interdisciplinary dentistry, with particular emphasis on the periodontic-orthodontic interrelationship. He also spent time in the clinic demonstrating surgical techniques.
Carole Palmer, a professor of public health and community service at the School of Dental Medicine, presented three abstracts at the American Dietetic Association's Food and Nutrition Conference and Expo in early November in Boston: "Food and Beverage Consumption Patterns and Oral Bacterial Species as Risk Factors for Severe Early Childhood Caries," "Development of a Pediatric Cariogenicity Index" and "Dietary Patterns and Severe Early Childhood Caries in a Sample of Low-income Young Children." Palmer's article "Feeding a Healthy Relationship" appeared in the November 2010 issue of Preventive Dentistry (UK).
Mark Pokras, V84, associate professor of environmental and population health at the Cummings School, gave two presentations at the 2010 joint annual conference of the American Association of Zoo Veterinarians and the Association of Reptile and Amphibian Veterinarians in October on South Padre Island, Texas. They were titled "Understanding the Avian Shoulder: Anatomy and Pathology of the Coracoid" and "Understanding Lead: Health, Ecosystem and Policy Aspects." He also gave the invited keynote address, "Conservation Medicine: Defining a Transdisciplinary Approach to Environmental Health," at the 2010 International Conference on Wildlife and Conservation Medicine in November at the Taiwan Endemic Species Research Institute in Jiji, Taiwan.
Katherine Rodriguez, V12, was awarded third place in the medical/dental/veterinary division of the 2010–11 Earle P. Charlton Lecture and Poster Competition on November 4. Her presentation, based on her NIH-supported summer student research, was titled "The Tin Score: Assessment Tool for Distress in Laboratory Mice."
Alejandra St. Guillen, G12, a graduate student in urban and environmental policy and planning, has been chosen as the new executive director of ¿Oíste?, a Boston-based nonprofit working to advance the political, social and economic standing of Latinos and Latinas in Massachusetts. In her new role, St. Guillen will direct the organization's fundraising initiatives, provide day-to-day management of its finances and administrative operations and develop new partnerships statewide and nationally to advance ¿Oíste?'s funding and programmatic work. For the past three years, St. Guillen has been ¿Oíste?'s program manager for the Initiative for Diversity in Civic Leadership, and in 2009, she was voted one of the 100 Most Influential Latinos in Massachusetts by El Planeta, the state's largest Hispanic newspaper.
Ernst J. Schaefer, a professor at the Friedman School and director of the Lipid Metabolism Laboratory at the Jean Mayer USDA Human Nutrition Research Center on Aging at Tufts, was honored in November by the Council on Arteriosclerosis, Thrombosis and Vascular Biology of the American Heart Association, and gave the George Lyman Duff Memorial Lecture at the AHA's annual meeting in Chicago. The title of his talk was "High Density Lipoprotein (HDL) Particles in Health and Disease." Since 1982 Schaefer and his research group have published more than 500 papers in the area of plasma lipoproteins, nutrition, genetics and heart disease risk. Schaefer particularly singled out other Tufts colleagues with whom he has collaborated on this research, including Jose M. Ordovas, Alice H. Lichtenstein, Stefania Lamon-Fava and Bela F. Asztalos with the HNRCA.
Ken Shadlen, a senior research fellow at the Global Development and Environment Institute, participated in the TRIPS@10 Conference at Columbia University in November, during which he presented the paper "The Political Economy of TRIPS Implementation: Is there a Trap?"
Theoharis Theoharides, professor of pharmacology at the School of Medicine, will receive an honorary degree from the University of Athens at a ceremony there on January 25.
Mila Thigpen, a lecturer in the Department of Drama and Dance in the School of Arts and Sciences, performed with the ANIKAI Dance Company at New York's Dance Theater Workshop last summer.
Timothy A. Wise, deputy director of the Global Development and Environment Institute, submitted formal comments to the U.S. Department of Agriculture in November on the proposed GIPSA rules governing uncompetitive practices in U.S. livestock markets. The comments are based on his paper with Sarah Trist, N10, "Buyer Power in U.S. Hog Markets: A Critical Review of the Literature." Syndicated farm-belt columnist Alan Guebert interviewed Wise about his policy brief written with Betsy Rakocy, N10, "Hogging the Gains from Trade." Guebert's column runs in farm-belt newspapers with combined circulation of close to one million. The Fort Wayne Sentinel has also picked up the piece, titled "Level the Playing Field of Trade? Just Look Out."
Branko Zugic, E11, a Ph.D. student in chemical engineering, was named a 2010–11 Tufts Institute of the Environment fellow. Zugic received the fellowship, which came with $4,970 in support, to pursue a project titled "An Alternative Biofuel: LPG from Biomass Derived Organic Acids."
Posted January 07, 2011