People Notes December 2010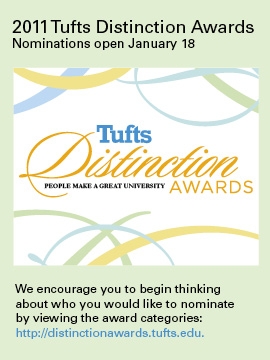 Robyn Alders, associate professor of international veterinary medicine in the department of environmental and population health at the Cummings School, delivered invited presentations on "Tufts' Approaches to Community Involvement in Disease Control" and, together with Professor John Deen of the University of Minnesota, "One Health Infectious Disease Prevention and Control: Building a Foundation" at a public health and veterinary medicine dean's summit held in Kampala, Uganda, on Oct. 15 and 16. The summit was supported by the USAID RESPOND project and involved participants from the Democratic Republic of the Congo, Ethiopia, Kenya, Rwanda, Tanzania and Uganda.
Jessica Dym Bartlett, a GSAS child development doctoral student, was one of only two graduate students in the country to be named a fellow by the National Quality Improvement Center on Early Childhood this fall. The award supports up to two years of dissertation research, with each recipient receiving $25,000 for each 12-month period. Bartlett will serve as a fellow from 2010–2012, and her dissertation will focus on how adolescent mothers with a history of childhood maltreatment manage to break the cycle of abuse and neglect and parent their own children successfully.
Athar Chishti recently joined the School of Medicine as a professor in the department of physiology. Formerly with the University of Illinois College of Medicine and St. Elizabeth's Medical Center, Chishti's expertise is the assembly and regulation of cytoskeleton.
Elizabeth Colleran, V90, VG96, who currently practices in and owns two cat hospitals, is the new president of the American Association of Feline Practitioners. Prior to beginning her term as AAFP president, Colleran joined the AAFP board in 2001, served as AAFP secretary-treasurer for three years and then became president-elect.
Chris Dulla recently joined Tufts as an assistant professor in the department of neuroscience at the Sackler School. He came to Tufts from the Stanford University School of Medicine. Dulla will facilitate new strategies to study mechanisms generating epilepsy and will join the faculty cluster studying neuron-glial interactions.
Kevin Gallagher, a senior researcher at the Global Development and Environment Institute (GDAE), was interviewed by the Real News Network on the consequences of the Fed's proposed quantitative easing and its implications for G-20 leaders who tried to prevent a "currency war" at the Seoul summit. He was also interviewed on why many developing countries are adopting capital controls as a countermeasure to the Fed's proposed quantitative easing and why the IMF is supporting them. To watch the interviews, go to Hot Money Creating Havoc in Global Economy and Who Pays the Bill for the Fed's QE2? Gallagher also traveled to New Orleans in mid-November to participate in U.S. Environmental Protection Agency national advisory committee meetings regarding the environmental impact of NAFTA in Mexico.
Neva Goodwin, co-director of the Global Development And Environment Institute, gave an address on Oct. 28 at the House of Commons in London to the All-Party Parliamentary Group on Wellbeing Economics. Her talk was based on a short paper, "A New Economics for the Twenty-first Century," which will be published in World Future Review. Goodwin was in London in her role as one of five board members of the New Economics Institute.
Paul Jacques, a professor at the Friedman School, gave a presentation titled "Mediterranean-style Diet Patterns: Their Relation to Diet Quality and Health Outcomes" at the recent American College of Nutrition annual meeting in New York.
Peniel Joseph, a professor of history in the School of Arts and Sciences, was named one of Ebony magazine's Power 100 Emerging Leaders in its December 2010-January 2011 issue.
Chueh-Ling Kuo is the fourth student to graduate from the Cummings School's Ph.D. program through the Department of Biomedical Sciences. Kuo's research focused on botulinum neurotoxin, the cause of botulism, and culminated in her thesis titled "Reducing Intraneuronal Persistence of Botulinum Neurotoxin as an Approach to Botulism Therapy." Kuo recently began a postdoctoral position at Harvard University Medical School in Al Goldberg's lab studying protein ubiquitination.
Melissa Mazan, associate professor of biomedical sciences at the Cummings School, was an invited speaker at the 28th symposium of the Veterinary Comparative Respiratory Society in Raleigh, N.C., in September, speaking on "Airway Disease Symptoms in Horses and Barn Personnel: Linkage to Environmental Insult."
Nicola McKeown, an assistant professor at the Friedman School, gave a presentation titled "Nutrition and Chronic Disease: Advantages of a Diet Pattern vs. Single Nutrient Approach," at the recent American College of Nutrition annual meeting in New York.
Susan Mitchell, an assistant professor of clinical sciences at the Cummings School, presented two talks at the American College of Veterinary Surgeons Symposium in Seattle, Wash., on Oct. 22: "An Overview of Methicillin Resistant Staphylococcus Aureus (MRSA) and Control Measures," and "MRSA: Prevention and Treatment of Post-Operative Surgical Infections."
Errol R. Norwitz joined the School of Medicine in August as chairman of obstetrics/gynecology and ob/gyn-in-chief at Tufts Medical Center. Norwitz is highly respected internationally for his maternal-fetal medicine work, particularly in the causes and prevention of preeclampsia and pre-term labor. He has been named among the Best Doctors in America three times.
Beatrice Rogers, a professor of nutrition at the Friedman School, was in Colombia in October to deliver two talks at the Fourth Forum on the Human Right to Food and Nutrition Security, organized by the Observatorio de Seguridad Alimentaria y Nutricional, an activity headed by the National University in Colombia. She spoke on evaluating food security programs at the forum in Bogota, and on hunger mapping and the relationship between poverty and malnutrition at the forum in Manizales.
Charles Shoemaker, a professor of biomedical sciences at the Cummings School, was an invited speaker for the Biotechnology/Life Sciences Seminar Series at the Center for Biotechnology at the University of Nebraska in Lincoln on Oct. 13. The seminar was entitled "Therapeutic Strategies that Accelerate Serum Clearance or Promote Intracellular Degradation of Targeted Proteins."
Paul Summergrad, the Frances Arkin Professor and chair of the Department of Psychiatry at School of Medicine, is president-elect of the American Association of Chairs of Departments of Psychiatry (AACDP). The AACDP is the national organization for all medical school chairs of psychiatry in the United States and Canada.
Allen Taylor, a professor of nutrition at the Friedman School and director of the Laboratory for Nutrition and Vision Research at the Jean Mayer USDA Human Nutrition Research Center on Aging (HNRCA), was recently elected vice president of the International Society for Eye Research.
Thomas E. Vandervelde, the John A. and Dorothy M. Adams Faculty Development Professor in the Department of Electrical and Computer Engineering, received one of 43 grants from the Air Force Office of Scientific Research as part of its Young Investigator Research Program for his work exploring and increasing the capabilities of photodetectors with applications for advances in biomedical diagnostics, health care and sustainable energy. The Young Investigator Research Program annually awards funding to U.S. scientists and engineers who show exceptional ability and promise for conducting basic research. Read more about his work here.
Peter Walker, the Rosenberg Professor of Nutrition and Human Security and director of the Feinstein International Center, and Antonio Donini, a senior researcher at the Feinstein International Center, gave keynote speeches at the 2010 Humanitarian Congress on the Theory and Practice of Humanitarian Action in Berlin, Germany, in October.
Timothy A. Wise, deputy director and director of the research and policy program at
the Global Development and Environment Institute (GDAE), gave the Robert G. Mead, Jr. Endowed Lecture for the University of Connecticut's Latin American and Caribbean Studies Program on Nov. 4. He spoke on the topic "Corn, Migration and the Cheapening of Everything." Wise also presented his recent paper, "Agricultural Dumping under NAFTA."
Yongjie Yang recently joined Tufts as an assistant professor in the department of neuroscience at the Sackler School. Prior to coming to Tufts, he was at the Johns Hopkins School of Medicine. Yang will play an important role in the further development of the cluster studying  neuron-glial interactions and epilepsy.
Posted November 29, 2010