An Ounce of Prevention
The importance of screening for oral cancer can't be emphasized enough, says a survivor
By Jacqueline Mitchell
By the time Eva Grayzel got an accurate diagnosis of oral cancer, she had a 15 percent chance of survival. Over the course of two years, a general dentist, two oral surgeons and an ear specialist all failed to recognize the painful, recurring lesion on Grayzel's tongue as a deadly cancer. Following harrowing surgeries and radiation therapy that sapped her will to live, Grayzel overcame the disease and has been cancer-free for 10 years. Now she is on a mission to tell her story, in particular to dental students and practicing dentists, and recently took her message to the School of Dental Medicine. Screen everybody who comes though the door for signs of cancer, she says, and you might save a life.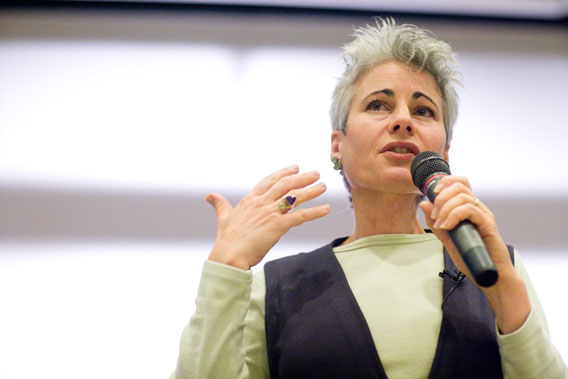 "I had no idea this was potentially dangerous," Eva Grayzel says of the sore in her mouth that was eventually diagnosed as cancer. Photo: Melody Ko
Three Americans are diagnosed with oral cancer each hour, and one dies of the disease every day. Global rates are even higher, especially in countries where tobacco use is pervasive. Of the 34,000 patients in this country diagnosed annually with oral cancer, only half will survive five years. While not as common as breast or lung cancer, oral cancer's death toll "is like a small plane going down every day," a direct result of late diagnoses, says Dr. Michael Kahn, professor and chair of the Department of Oral and Maxillofacial Pathology.
Grayzel first noticed a slight sore on the side of her tongue in 1996. A 31-year-old busy working mother of two small children, she didn't get to her local dentist in Bethlehem, Pa., until six weeks later. That dentist sent her to an oral surgeon, who told her the lesion didn't look like anything to worry about. He removed the small bump to relieve her discomfort. A week later, Grayzel got a phone call telling her the biopsy had come back clean. The call came as something of a surprise. "I had no idea this was potentially dangerous," she says.
Two years later, the sore came back. The oral surgeon told her it was just a callous. Rinse with salt, he suggested. But the ulceration refused to clear up. Soon the sore on her tongue interfered with her speech. After bouncing back and forth between the oral surgeon and dentist, her condition only worsened. She called a family friend, a plastic surgeon, who urged her to seek help at a medical center. Three weeks later, a doctor at Mt. Sinai Medical Center in Manhattan felt her lymph nodes, looked at the ulcer on her tongue, performed another biopsy and told Grayzel she had stage IV oral cancer.
"The shock alone could have killed me," she says. "Why didn't [my dentist and oral surgeon] know what they were looking at?"
Catching the Warning Signs
"We have to do better finding it early," says Kahn. "Eva suffered so much, mostly because of the delayed diagnosis. Every month that clicked by, that cancer was growing bigger, deeper and spreading." Annual dental screenings, says Kahn, should include a visual and physical exam of the entire mouth, as well as checking the lymph nodes of the neck for any abnormality or swelling.
One possible reason Grayzel's dentist missed her diagnosis is that she didn't fit the traditional profile of the typical oral cancer patient. Tobacco use-either in the form of cigarettes or chewing tobacco-is a clear risk factor for oral cancer, especially when combined with alcohol use. Grayzel didn't smoke and was only a light drinker. Most patients are over 40 years of age; Grayzel was 31 when she first complained of symptoms. Men are disproportionately affected by the disease-though women seem to be catching up-as are African Americans.
Still, the biopsy ordered originally by Grayzel's oral surgeon came back clean. What went wrong? "The problem is too many biopsies never make it to oral pathologists, who are much more likely to accurately diagnose oral cancer early in the game," says Kahn.
Grayzel, a professional story-teller, spoke to Kahn's second-year oral pathology class last year, and "tons of students went up to her and profusely thanked her and said it would really make a difference in their careers," he says. This year he scheduled her for a lunchtime lecture and opened it to the community.
"It really hit home," says Laleh Sotoodeh, D10, whose childhood friend's life was saved when a savvy dentist diagnosed her aplastic anemia. Grayzel's take-home message, that it's important to do careful screening of all patients, was not new to Sotoodeh. That lesson already has been ingrained in her by her Tufts professors, but she says the story was one she "won't ever forget."
Jacqueline Mitchell can be reached at jacqueline.mitchell@tufts.edu